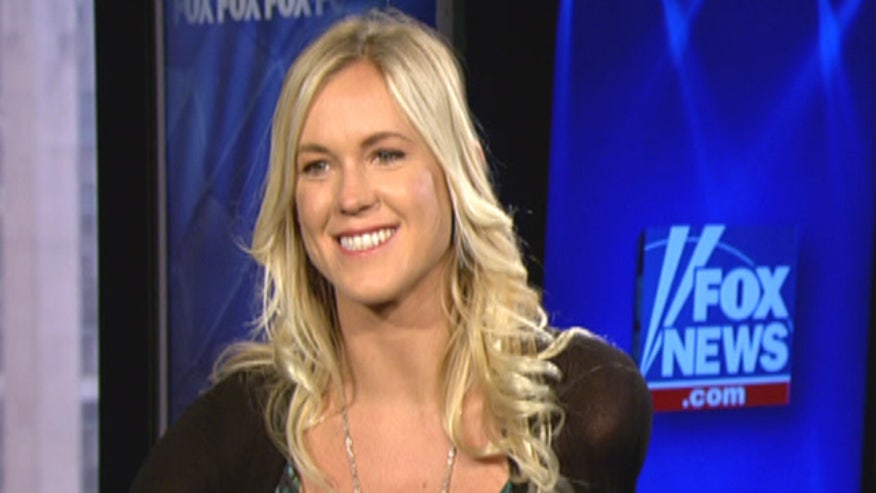 NEW YORK – At age 13, Bethany Hamilton was thrust into the spotlight after losing her arm in a shark attack.

Several best selling books, a few movie deals and one wedding later, the 24-year-old has become an inspiration to people all over the world.

The Hawaii native sat down with FOX411 to discuss how her faith in God helped her move on from the attack and get back on her surfboard.

"I first accepted Christ's gifts when I was 5 years old," Hamilton told FOX411. "Even at that young age I remember I was with my best friend and we were just hanging out at our house and we were like, 'Let's ask God into our hearts' and that was kind of the start of it."

When Hamilton lost her arm to a 14-foot tiger shark in 2003, her first instinct was to turn to God.

"I remember after I lost my arm, I just had this sense of peace that God was in control and that's kind of weird for a 13-year-old to be like, 'Hey, God, you're in control,' like I just lost my arm."

Hamilton is now inspiring others to improve their spiritual and physical health in her new book "Body and Soul."

"When I wrote 'Body and Soul' I didn't want to make girls feel uncomfortable with themselves," she explained. "I wanted them to feel loved and encourage to start making healthier choices in their daily life."

A healthy diet and exercise are just two ways to improve one's life, Hamilton said. You also have to take care of your spiritual health she advised.

"On top of that, I wanted to encourage them in their faith," said Hamilton. "And I think God calls us to take care of our bodies and to love and respect our bodies and I think that can be done through the way that we eat and the way that we move but also in the way we think towards ourselves and how we think towards God."

One way Hamilton respected her body was by saving herself for marriage.

"I think growing up I was blessed to have parents that stayed together, and have that husband and wife image of I want an awesome husband one day that will love and support me until I die," she said. "And I also wanted to honor God with the way that I approached [marriage]. I definitely was patient and I didn't mess around and [my husband is] the only guy I've ever kissed."

Hamilton said she is glad that she waited because the relationship she and her Christian youth minister husband share is "beautiful."

"It's such a beautiful thing now being in a relationship with someone as amazing as he is and being able to share life together and share our same faith and encourage and uplift each other and just be an awesome loving team."

Mutual friends set up the couple on a blind date and the outdoor junkies spent their first date in an unusual way.

"The first thing we did together was jump off a cliff into the ocean and then after that we just built a friendship and got to know each other and it ended up working out good."

The new bride – the couple married in August – is now focusing on helping others face their challenges. She has a message for those struggling, no matter how big or small their problem may be: God loves you unconditionally.

"I think that we all go through different hard times in our lives and challenges and things to overcome and I just know that how I overcame was through Jesus Christ and that has been my stronghold," she shared.

"I think the thing God's taught me is first of all he forgives me when I make a mistake and he calls me to forgive the people around me that make mistakes and hurt me. In that is just God's gift of amazing love and forgiveness and that's why He died on the cross for our sins so just know that God loves you and He has this amazing love for you and He just wants to be a part of it."
Faith & Fame is a regular column exploring how a strong belief system helps some performers navigate the pitfalls of the entertainment industry.
You can find Sasha Savitsky on Twitter @SashaFB.