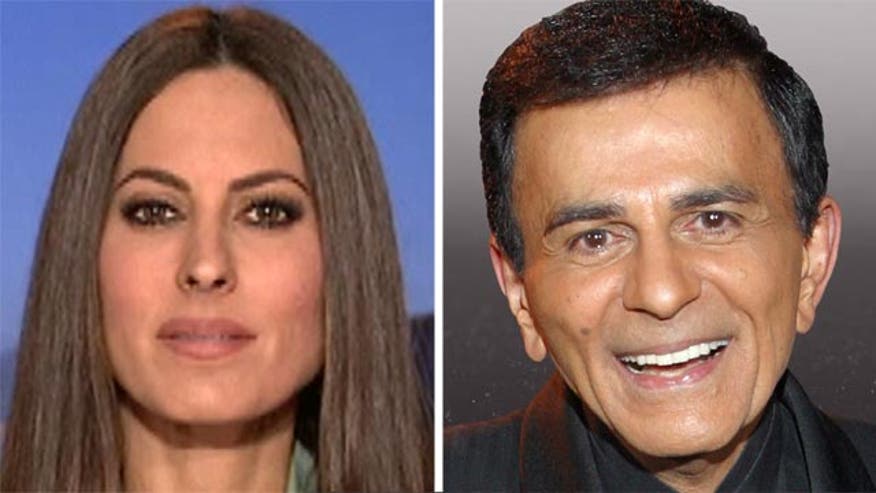 The daughter of missing longtime radio host Casey Kasem made a public plea to her stepmother Tuesday, telling Fox News' Greta Van Susteren she will not contest any claim to her father's estate if Jean Kasem would "give us our dad back."
A judge on Monday ordered an investigation into the whereabouts of Kasem after an attorney for the ailing radio personality's wife said the former "Top 40" host had been removed from Los Angeles without his children's knowledge. Kasem, 82, suffers from Lewy Body disease, according to a rep for his family, can no longer speak and has been in various medical facilities chosen by his wife.
Kasem's children have complained that they have been unable to see their father in accordance with an agreement with their stepmother. Daughter Kerri Kasem had sought a temporary conservatorship and was appointed her father's temporary caretaker on Monday. Her attorney, Troy Martin, said the family believes the entertainer has been taken to an Indian reservation in Washington state.
Late Tuesday, the family said it would file a missing persons report.
"Adult Protective Services, the courts and family are currently looking for Mr. Kasem. As soon as the paper work for the conservatorship is done, Kerri Kasem will file a missing persons report, which should be done by tomorrow morning, thereby allowing the FBI and local law enforcement to get involved," the statement said. "As soon as the family has any additional information, we will alert the media as soon as possible."
Kerri Kasem said Tuesday on "On the Record with Greta Van Susteren" that she last saw her father on May 6, and he had a smile on his face for their whole visit.
"A few hours later he was snatched from the facility that he was being stayed at without a doctor's order, without any kind of transfer order and he was not transported properly either," she told Van Susteren.
Kasem said they have received some tips as to her father's whereabouts, and one of her stepmother's relatives told her they overheard a conversation that the plan was to move Casey Kasem to an Indian reservation and then out of the country.
"I have to find my dad," she said. "He is he very ill and being moved across state lines or wherever he is, this is not good for his health."
Kasem said she believes Jean Kasem "needs some help" because she and her family do not understand what her stepmother is doing.
"We have told her time and time again if it's about the money, take the money, take the house," she said. "We won't contest the will. We won't contest anything. Take it all. Have it all. Give us our dad back. She won't do it and we don't understand what she wants."
The Associated Press contributed to this report.