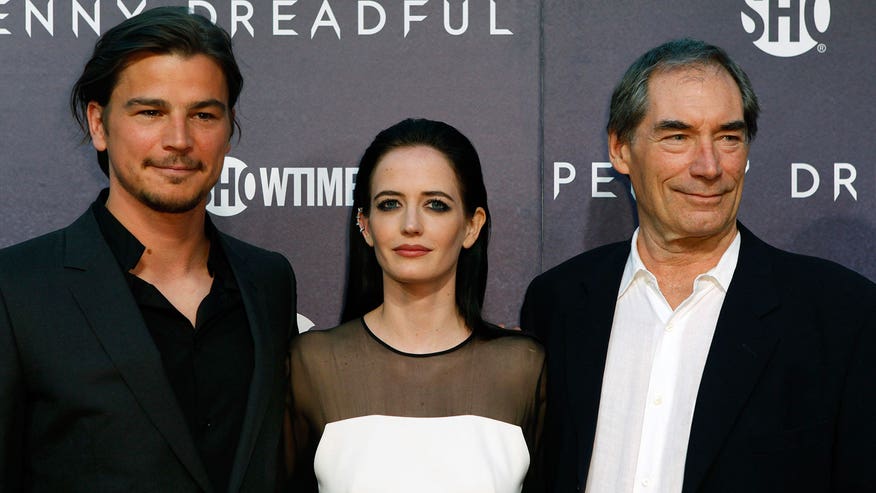 Here's what's happening out there:
A source told Us Weekly that Stacy Keibler is "irked" about George Clooney's engagement to Amal Alamuddin. If that's true, we'd be pretty "irked" if we were Stacy Keibler's husband.
Are you curious about the new Showtime series "Penny Dreadful" after seeing the ads all over bus stops and television? Us too. Watch the video above to see what stars Eva Green, Timothy Dalton and Josh Hartnett have to say about the their scary new show.
On a recent episode of "Late Night With David Letterman," "Divergent" actress Shailene Woodley told Letterman about the digestive benefits of eating clay, yet she failed to tell Letterman about the many taste benefits of not eating clay.
Angelina Jolie told Elle magazine that she and Brad Pitt drive each other "beautifully crazy." And yes, that's an obnoxious turn of phrase, but it's not nearly as annoying as "conscious uncoupling." It's getting there, though.
Ever wanted to see Doogie Howser naked? No? You haven't? Well too bad, because that's exactly what's happening on the cover of Rolling Stone!
Kim Kardashian told her Twitter followers that her "VERY small" wedding to Kanye won't be filmed for "Keeping Up With the Kardashians." Everything directly before and after, sure, that'll be filmed, but not the actual ceremony, because that would be tacky.
Former NFL player and current "Brooklyn Nine-Nine" actor Terry Crews has been announced as the next host of "Who Wants to Be a Millionaire" on ABC. If you don't know Crews by name, you almost certainly know him by pecs:
Blake Lively told Extra that she orders the frozen hot chocolate (with extra peanut butter sauce) from Seredipity 3 when she's in New York. But since she still looks like Blake Lively, we imagine she merely enjoys the aroma before paying her tab, thanking the waiter, and slowly walking away.
Lindsay Lohan dragged herself outside for something called Gabrielle's Gala in London on Tuesday, wearing a bra-less outfit that nobody really wanted to see.
Hollywood is letting Will Ferrell and Adam McKay bring us another "Flintstones" film, because that worked out so well the last two times they tried it. But hey, at least Ferrell and McKay have a horrible track record of bringing beloved television shows to the big screen.
Selena Gomez went out in public with Kendall Jenner the other night, because you just know she's dying to surprise everybody with the news that she's actually still friends with some of the people she's been rumored to hate.
Jada Pinkett-Smith says there's "nothing sexual" about the recent photo of her 13-year-old daughter Willow posing in bed alongside a shirtless 20-year-old actor. Fine. Maybe not. But if there was something sexual about to go down, Pinkett-Smith would have to admit that Willow and this dude already have a pretty big head-start.
Jackie Lynn Taylor, one of the original "Our Gang" members, died on Monday at the age of 88. It's sad, but we're honestly surprised she lived this long considering that eerie "Little Rascals" curse.
Justin Timberlake revealed that after N*Sync released their single "Gone," Michael Jackson liked it so much that he called Timberlake and asked if he could somehow sing on it too, because evidently, Michael Jackson doesn't comprehend the concept of linear time.
"Pitch Perfect" actress Rebel Wilson will be starring in a remake of the 1980 comedy film "Private Benjamin," probably because Hollywood executives had no trouble imagining her with the dejected, miserable expression made famous by Goldie Hawn in the original film's poster.
Mariah Carey squeezed herself into a black dress for a taping of "The Late Show With David Letterman" on Wednesday, further blurring the line between herself and a real-life Jessica Rabbit, albeit a Jessica Rabbit with seemingly less spacial awareness.
Jennifer Lawrence, on the other hand, is hyper-aware that she's due for some hateful backlash in the near future. "Just wait: People are going to get sick of me," she told Marie Claire magazine.
And finally, McDonald's restaurants in Stockton, California, are reportedly testing out new DIY item that encourages customers to season their own fries with packets of garlic-parmesan or buffalo dust. We give it two weeks until that buffalo dust accidentally gets loose in the plastic-enclosed hallways of their PlayPlaces, forcing everybody to take their kids to the emergency room.