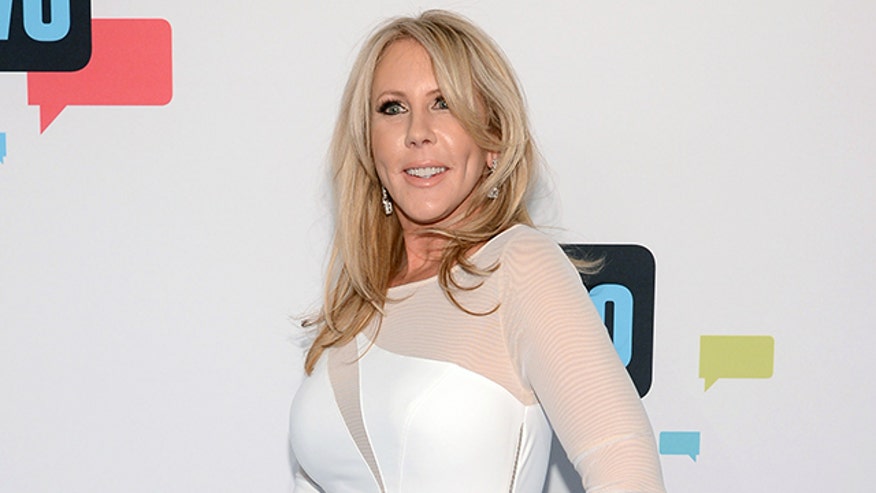 Here's what you should know:
Instead of just picking at it like a normal human being, LeAnn Rimes apparently had to undergo surgery to remove a nasty hangnail from her finger.
The drama between "Real Housewives of Orange County" stars Vicki and Tamra seems endless. Watch the video above to hear what Vicki has to say about the current state of their relationship.
Rihanna is just straight-up topless for the cover of Lui magazine. No hand-bra, no clever editing to obscure nipples — just straight-up topless.
In related news, RiRi evidently tried to post a snapshop of the Lui cover to Instagram, which resulted in her account being temporarily suspended. But no matter! Twitter has no problem with pictures of Rihanna's naked butt from the same issue of Lui! (Warning: That link is probably NSFW.)
Judging by the way she stripped down to bra and panties for the cover of a magazine called Wonderland, Mariah Carey appes to be in need of some serious attention, everybody.
The cast of J.J. Abrams' upcoming "Star Wars" sequel has been announced. It's basically the original bunch, with the addition of Max von Sydow, Adam Driver, Oscar Isaac and somebody named Daisy Ridley who nobody's ever heard of.
Justin Bieber went out for dinner with Kendall Jenner on Monday, because, as we all know, the best way to make your ex-girlfriend jealous is to share sushi with chicks she stopped following on Instagram.
E! News has surmised that Kate Upton will be on the cover of Vogue's June issue, merely by studying a cryptic glimpse of an unnamed model's cleavage on the magazine's Instagram page. "I'd know that chest anywhere!" someone in the E! newsroom probably shouted. UPDDATE: Yup, they were right.
Frankie Muniz thinks that he's got enough "Malcolm in the Middle" money socked away to purchase the Los Angeles Clippers — and he's pretty serious about it. Bless his heart.
Zoe Saldana's husband has Thor hair. Glorious, glorious Thor hair.
Bob Hoskins, the star of such films as "Who Framed Roger Rabbit," "Hook," and "Mermaids," died on Tuesday. He was 71.
On Tuesday evening, Jerry Seinfeld celebrated his 60th birthday with his family, eating a home-cooked Italian meal and a huge cake which, for some unknown reason, doesn't appear to be a cinnamon babka.
The producers of Sunday night's American Comedy Awards decided to saw off parts of the actual awards after realizing — much too late — that each trophy weighed around 15 pounds. This was presumably the most hilarious part of the evening.
"Glee" actress Naya Rivera is no longer that, as she's been fired following a fight with the producers. We shall now refer to her as "former 'Glee' actress Naya Rivera."
David Arquette and girlfriend Christina McLarty welcomed a baby boy on Monday. They named him Charlie West, perhaps after '70s NFL player Charlie West, but no, probably not.
"Newsroom" actress and all-around attractive person Olivia Munn is newly single, according to Us Weekly. "Oh boy!" said men the world over, right before their delusions of dating Ms. Munn faded into a quiet depression.
Earlier reports claimed that Prince Harry ended his relationship with Cressida Bonas because of her "neediness," but a source told the Daily Beast she was the one who was "fed up" with Harry. So they both hated each other, is what we can take away from this.
Yet another "Dancing With the Stars" contestant (Olympian Amy Purdy) suffered a rib injury during a performance. One more, and we'd start to wonder whether the 'DWTS' studio was built atop an old Native American burial ground.
And finally, for everyone who loves patriotic ice-pops but can't be bothered to actually walk over to the freezer aisle, Tic Tacs will soon be available in a new flavor that tastes like Rocket Popsicles.