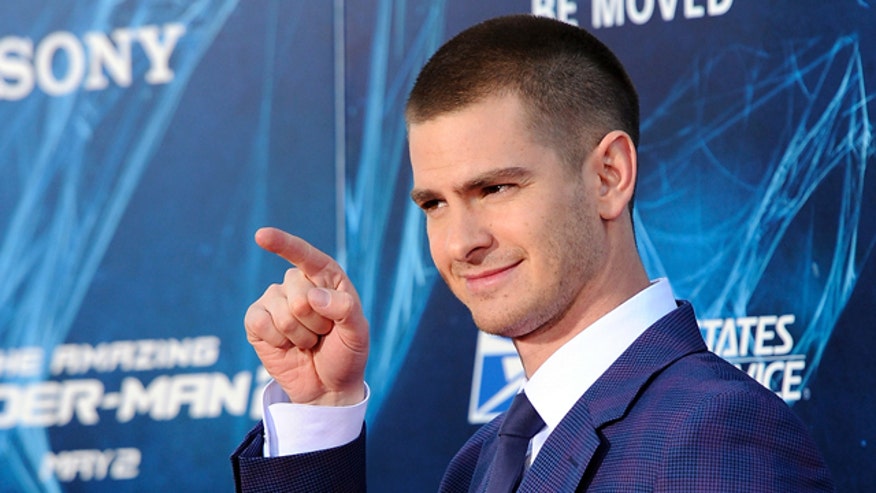 Here's what's happening out there:
Rihanna apparently looked into her closet on Thursday night, saw a see-through tank top that is in no way appropriate for a public outing, and said, "Yes! I will wear that to an NBA playoff game in Brooklyn!" (Warning: Link is kinda NSFW.)
She also went topless in the May issue of Vogue Brazil (above), which is arguably a much better venue for that sort of thing. (Also kinda NSFW.)
Sally Field and Andrew Garfield, stars of "The Amazing Spider-Man 2," dish with In The FOXlight's Michael Tammero about the new film and Garfield's favorite (and entirely appropriate) Halloween costume. Hear what they have to say in the video above.
Leonardo DiCaprio's girlfriend, Toni Garrn, posed with six naked men on Instagram. But she herself wore jean shorts, which seems like kind of a cop-out when the dress code was as lax as it was.
Jennifer Lawrence recently flipped the bird at the paparazzi during a date-night with boyfriend Nicholas Hoult in London. But anybody who saw her in the press room after the Oscars already knows what that might look like.
At the age of 81, Willie Nelson has earned his fifth-degree black belt. But seeing as weed dulls the reflexes, he probably fights less like an actual fifth-degree and more like a beefy fifth-grader who knows how to throw a punch.
Keira Knightley wore another one of those Chanel dresses that shows off her extremely tiny, almost non-existent waist.
Actress Danica McKellar is still going to try and compete on "Dancing With the Stars" despite breaking one of her ribs during rehearsal, presumably because those "Wonder Years" residuals aren't nearly as substantial as the pay on "DWTS."
George Clooney is reportedly ready to experience all the joys and horrors of marriage, as PEOPLE.com reports that he's become engaged to girlfriend Amal Alamuddin.
In what seems like an awful, awful lawsuit, the producers of the Broadway play "Looped" are suing former star Valerie Harper for leaving the production when she was diagnosed with brain cancer. But, in the interest of full disclosure, she sued them first.
Sarah Jessica Parker reportedy tried tequila for the first time at a book club dinner, but soon switched to wine, which she has presumably tried 17,000 times in the past.
Director Zach Snyder isn't going to let us off the hook with just one Superman/Batman movie. He was recently chosen to helm the upcoming "Justice League" film, which will unite DC's two biggest superheroes with a bunch of their superheroes that nobody really cares about.
Just like mom, Mariah Carey's 3-year-old daughter Monroe is already practicing sassy poses for Instagram. But unlike mom, she's wearing decidedly more clothing than Mariah would in
DJ E-Z Rock, better known as the guy responsible for the beat in the "It Takes Two" song we now only hear in commercials, has died on Sunday. He was 46.
Kim and Khloe Kardashian ran in some kind of mud-based race on Saturday, sharing pictures from the event on their social media pages. However, they somehow managed to avoid uploading any photos where their outfits are marred by even a speck of dirt.
Taylor Swift only befriends extremely attractive people, as evidenced by her latest outings with Victoria's Secret models Karlie Kloss and Lily Aldridge.
Justin Bieber uploaded a picture of himself in New York City's Central Park on Saturday, then wrote that he once planned to "propose to his future wife" in the park before things regrettably changed. And by "things," he probably means an easy relationship with Selena Gomez that allowed him to visit brothels on the side.
And finally, today is Krispy Kreme's Hero Appreciation Day, which means that they'll sell you two dozen doughnuts for the price of one. Then, you're supposedly supposed to share those doughnuts with a hero of yours, because Lord knows there's no room for sharing when you've only got a single dozen Krispy Kreme doughnuts in your possession.