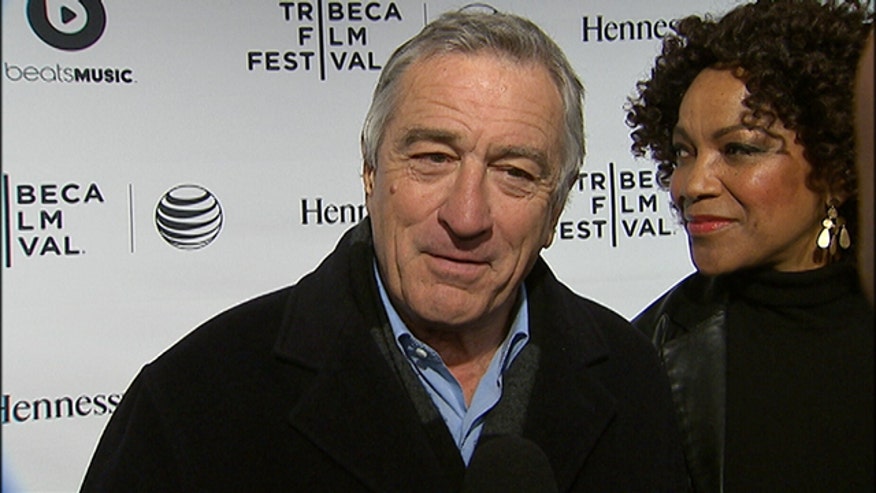 Here's what all the kids are into:
"Modern Family" actress Sophia Vergara is showing off her admirable abs in the latest issue of Women's Health, but what she really wants people to know is that she's got a nice butt too.
You know who else has nice abs? "Top Chef" host Padma Lakshmi, and she made damn sure everybody knew it at a fundraising event in Brooklyn on Wednesday.
Robert De Niro recently chatted with In the Foxlight's Michael Tammero on the red carpet for the Tribeca Film Festival. Check out the video above to see the legend's take.
After two years of no significant YouTube activity, Taylor Swift uploaded a video documenting her saintly surprise visit to a fan's bridal shower. Kind of indulgent? Yes. Cute as the dickens? Also yes. Watch:
Donnie Wahlberg (of New Kids on the Block) and Jenny McCarthy (formerly of MTV's "Singled Out") are engaged. And no, you haven't somehow traveled back in time to the mid-'90s, via a Wayback Machine or jacuzzi-based time-travel device, when this might have been relevant.
A sequel to the 1993 comedy "Mrs. Doubtfire" is reportedly in the works, with Robin Williams set to return as the titular house-husband. Again, you have not somehow traveled back in time to the mid-'90s.
Outlets are reporting that Kate Middleton "photobombed" a young man in New Zealand who was taking a selfie, but they're using the word "photobomb" a bit liberally, because he clearly wanted her in the frame. Do you really think he's going to go home and say to his friends, "Aww, bummer! This selfie would be great if Kate Middleton didn't ruin it!"
After telling UK's The Sun that she wishes (daily) for smaller boobs, Kate Upton began backpedaling on an Australian radio show, presumably after coming to her senses and remembering why she's appearing in a Hollywood comedy alongside legitimate actresses.
Val Kilmer revealed to his Twitter followers that he keeps a picture of "Friends" alum David Schwimmer hanging on his mirror, yet refrained from explaining further. We're intrigued, to say the least.
Me and Schwimmer against the world... pic.twitter.com/5bh46DRnzk

— Val Kilmer (@ValEKilmer) April 17, 2014
Page Six is reporting that Tom Cruise and Laura Prepon ("That 70s Show," "Orange is the New Black") are secretly an item, despite their reps denying a relationship since late 2013.
An eyewitness claims that Katy Perry and DJ/producer Diplo were hooking up backstage at Coachella, which isn't that outlandish considering Perry hooked up with Florence + the Machine guitarist Robert Ackroyd at a previous Coachella festival. In other words, if you want to hook up with Katy Perry, get yourself to Coachella.
Although they've been separated for quite some time, Will Arnett has finally filed for divorce from fellow funny person Amy Poehler. Here's hoping that this is all some kind of long-form joke that will reveal itself in an "Arrested Development"/"Parks and Recreation" cross-over episode.
"X Men" director Bryan Singer is at the center of a scandal after a recent lawsuit accused him of sexually abusing a 17-year-old boy back in 1998 or 1999.
Blake Shelton and wife Miranda Lambert responded to the media's latest divorce rumors on Twitter, jokingly arguing about who gets custody of their liquor cabinet and imaginary children.
In a recent "Sesame Street" clip posted online, "Mad Men" actor Jon Hamm discusses emotions with a puppet named Murray, because it's never too early to teach children about the horrors of deep-seated guilt.
And finally, KFC is bringing back their Double Down meatwich (with two fried chicken breasts instead of bread) on April 21st, perhaps in celebration of Queen Elizabeth II's birthday, as she has been known to enjoy food in the past.