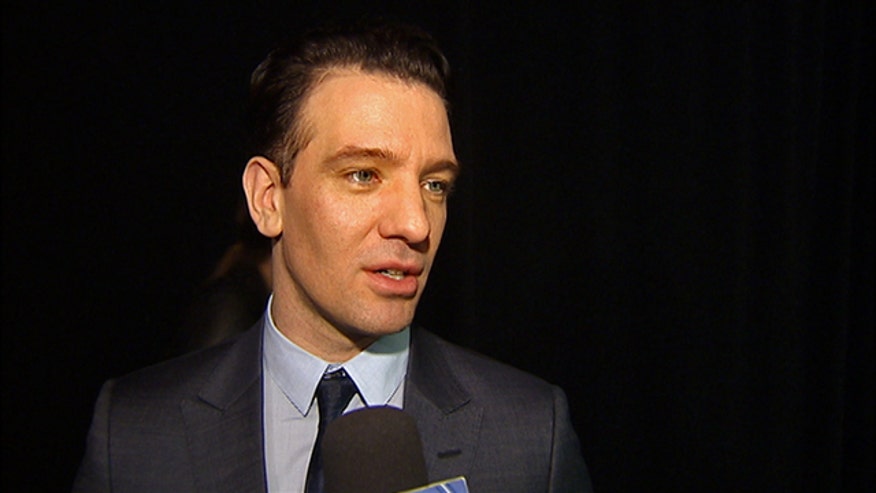 Here's what's happening, people:
While in Thailand at the end of March, Kim Kardashian posed for a photoshoot wearing nothing but a thong bikini. And some sand on her butt, if you count sand as something you can wear.
'Jesus Christ Superstar' is having another moment — this time as an arena tour, with a big-name cast that includes 'N Sync's JC Chasez, Destiny's Child's Michelle Williams and (perhaps oddest of all) Johnny Rotten, formerly of the iconic punk band The Sex Pistols. Check out what some of the cast members had to say about the new production in the video above.
Rascal Flatts admitted that singer Gary LeVox was lip-synching during their performance at the 2014 ACM Awards. For shame, Gary LeVox!
Model and socialite Peaches Geldof, the daughter of Paula Yates and musician Bob Geldof, was found dead near her home on Monday. She was 25.
Jennifer Lawrence is gracing the cover of Martha Stewart's Weddings magazine — but not because she's getting married or anything. She was just the only bridesmaid at her brother's wedding who starred in "Silver Linings Playbook."
Lindsay Lohan admitted to temporarily falling off the wagon on this past Sunday's episode of her OWN reality series. But as she explains in the following clip, it totally wasn't the time she was photographed reaching for a bottle of wine. That was just coincidence.
Instead of hiring some tall schlub to portray Chewbacca in the upcoming "Star Wars" films, J.J. Abrams has decided to bank some goodwill by hiring the original tall schlub who portrayed Chewbacca in the first "Star Wars" films.
Kevin Federline apparently needs people to tend to his farmland when he gets old and gray, because he just welcomed his sixth child (his second with current wife Victoria Prince) over the weekend.
Justin Bieber debuted a new neck tattoo on his Instagram account, because if you don't actually have credibility, you can sometimes buy it at the tattoo parlor.
A rare Chinese teacup from the 15th Century (featuring paintings of chickens) sold at auction for $36 million on Tuesday. Remember that the next time you need to justify hanging on to those old Flintstones glasses/Welch's Grape Jelly jars you collected in 1991.
We've been chatting a lot about lately, but Eddie Murphy also brought his fitness-model girlfriend Paige Butcher to Hawaii, where she too is basically living in a swimsuit.
Ever wanted to see a raccoon fire a machine gun whilst riding on the shoulders of an anthropomorphic tree-man? It's been a lifelong dream, you say? Well, dream no more! See exactly that in this new "Guardians of the Galaxy" clip from Marvel.
The people behind Archie Comics are planning to kill off Archie Andrews in an upcoming issue of their "Life With Archie" series, because if it worked for Superman, it's gotta work for Archie, right?
Miley Cyrus cancelled a concert in Charlotte, N.C., due to the flu — just 30 minutes before she was scheduled to take the stage. But in her defense, she began dropping hints way earlier, just like we do when we plan on calling out sick the following day.
Katy Perry dyed her hair "slime green" and shared a picture on Instagram. So take a look at that before it fades into a muddled "puke puce" in the coming weeks.
Debbie Harry confirmed her bisexuality in Out magazine. Now if only she would confirm that she is in fact Blondie, instead of having us pretend that "Blondie" refers to the entire band, when we all know it doesn't.
Scarlett Johansson told Glamour magazine that she doesn't like the nickname "ScarJo," saying, "there's something insulting about it." Point taken.
KFC locations in Baltimore are testing out new Funnel Cake Fries (basically fried dough with cinnamon and sugar) as a new accompaniment to their chicken Go Cup meals, because, you know, funnel cake is a side dish now.
Recently unearthed swimsuit photos of "Modern Family" actress Sofia Vergara — from 1992 — have made their way online, and holy cow, she looks almost the same today.
And finally, it's "Free Cone Day" at participating Ben & Jerry's locations nationwide. Get there between 12 p.m. and 8 p.m. for the privilege of waiting in line for an hour, only to discover that they ran out of Moose Tracks 10 customers ago.