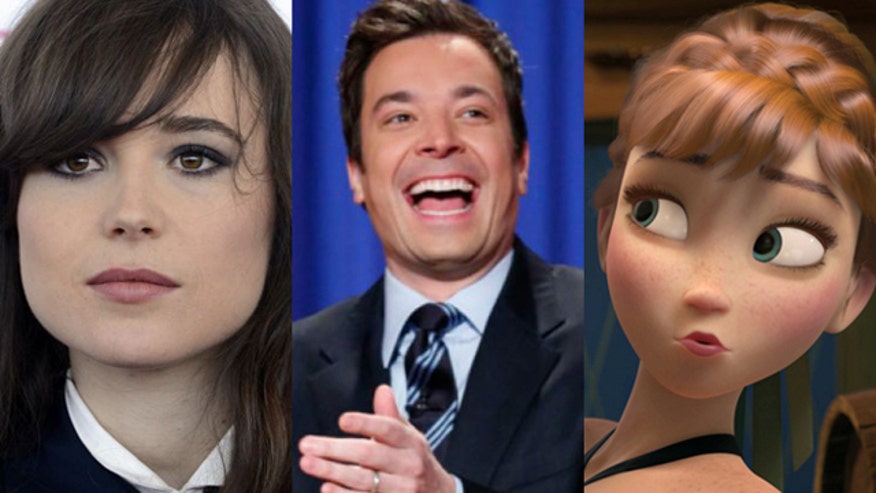 Homosexuality, family values, reportorial styles, and late night succession were all big stories this week in the entertainment world. Check out what we wrote, watch what four FOX editors have to say, and join the conversation on Twitter at #4FOUR4.
Check out new #4FOUR4 - http://t.co/rjX8unoX0i - who won the editor throwdown, @KateRogersNews @gabriellekarol @dianafalzone or @ckensler ?

— ckensler (@ckensler) February 20, 2014
1. 'Juno' actress Ellen Page reveals she is gay
Actress Ellen Page, nominated for an Oscar for her role as the pregnant teenager in the 2007 film "Juno," came out as gay at a conference in Las Vegas for educators and counselors who work with gay youth.
"I'm here today because I am gay, and because maybe I can make a difference," the 26-year-old actress told hundreds of school counselors, educators and other attendees at the Human Rights Campaign conference. "I feel a personal obligation and a social responsibility. I also do it selfishly, because I am tired of hiding and I am tired of lying by omission."
I think I won the throwdown, #IMO @ckensler @gabriellekarol @dianafalzone

— Kate Rogers (@KateRogersNews) February 20, 2014
2. New study: Family-friendly, faith-based and patriotic films are dominating the box office
They say sex sells, but perhaps not as well as one might think…

According to the newly released 2014 Annual Movieguide Report to the Entertainment Industry, family-friendly, patriotic and religious films are earning more money at the American box office each year. For the first time, nine of the top 10 grossing movies in 2013 at both domestic and international box offices had a family-oriented theme.
Watch #4FOUR4 - http://t.co/rjX8unoX0i - why do @KateRogersNews and @gabriellekarol keep hitting me? Host @dianafalzone, please rein them in

— ckensler (@ckensler) February 20, 2014
3. NBC Olympics boss defends interview that brought Miller to tears
The executive producer of NBC's Winter Olympics coverage has defended an interview with U.S. Alpine skier Bode Miller in which the super-G bronze medalist broke down in tears after several questions referencing his late brother.
The network issued a statement Monday defending the conduct of the interview by reporter Christin Cooper, and NBC Olympics boss Jim Bell doubled down in a conference call with media members.
"You'd be irresponsible not to tell that part of the story," Bell said, according to the Los Angeles Times. "That's what we do ... Some of the reaction to it we understand, [but] people don't know these athletes; they don't know their sports."
@ckensler @KateRogersNews @gabriellekarol it's like herding disgruntled cats. Tough job but someone's got to do it. ; )

— dianafalzone (@dianafalzone) February 20, 2014
4. Fallon takes reins of 'The Tonight Show'
If Jimmy Fallon had already proven he was a natural hosting NBC's "Late Night," he left no doubt Monday that "The Tonight Show" now fits him like a glove.
As promised during the much-promoted run-up to his "Tonight Show" debut, Fallon made no drastic changes to the "Late Night" formula that had served him for five years. He remained funny, gracious, bubbly and, above all, comfortable presiding over a show that was different mostly for its earlier time slot, its classier production values and legendary brand name.
Goofing around taping #four4four today @ckensler @dianafalzone @gabriellekarol pic.twitter.com/3rI3L6CmeJ

— Kate Rogers (@KateRogersNews) February 19, 2014