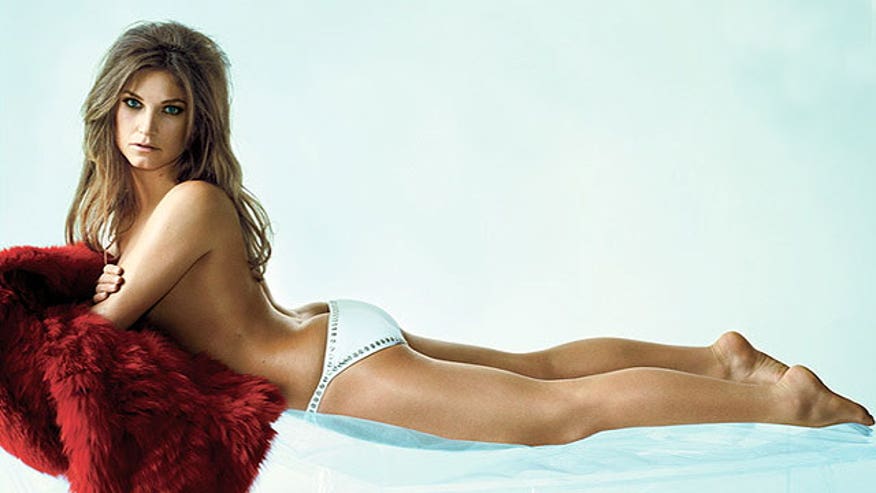 LOS ANGELES – Julia Mancuso won the bronze medal in the women's alpine skiing super combined event on Monday at the Sochi Olympics, but many already know her as the naked skier with the lucky underwear.
Mancuso stripped down for the February edition of GQ magazine, ditching her usual ski suit, boots, beanies and mask for a very provocative spread involving long black underwear and the top of her backside on display, and nothing but a little pair of white briefs.
"It is not a shock to me when I have a good race," 29-year-old Mancuso told the men's mag. "I started to tell people I'd just worn my lucky underwear."
While we're used to seeing the likes of tennis star Maria Sharapova show off her taut and toned physique for the cover of Esquire, and MMA fighter Ronda Rousey bare her body for Maxim, in the case of winter sports stars, stripping down is still a relatively new – albeit growing – tactic to sell cold-weather stars And with the Sochi Games underway, recent weeks have provided a global offering of female athletes in provocative poses reminiscent of those you'd find in the pages of Playboy.
Snowboarder Hannah Teter's official Instagram account is littered with sexy snaps of her baring her midriff and showing off her derriere.
Summer hurdler turned winter bobsled hopeful Lolo Jones is no stranger to flesh flashing having taken it all off for ESPN magazine, as well as filling her Instagram account with pictures of her backside in a barely-there, suck-in-and-squeeze bobsled uniform.
And if the drama surrounding dangerous snowboarding slopes, unhygienic hotel conditions and accusations of rampant homophobia wasn't enough for critics questioning Russia's approach to hosting the Games, an official Russian team website last week released a slew of super sexy images starring its female athletes. While the young women donned lacy lingerie, see-through garments and gave the camera come-hither smiles, there was very little mention as to what they actually do in the winter games.
According to one Russian official, the risqué photos were born out of a desire to show that "our Russian Olympic team defies stereotypes that women in sport are just a heap of muscles and masculine shapes." While Russia is notorious for its overtly sexual portrayal of women, the notion still doesn't sit well with many.
"While I do not have a problem looking at semi nude female bodies in the prime of their physical being, I do find it troublesome if said female athletes are shown through the lens of sexual objectification," pop culture expert Ariane Sommer told FOX411. "It seems to become more common every season to see not only up and coming female athletes but even such whom already have achieved milestones in their careers practically in the nude."
Ahead of the 2010 Winter Games, skiing sensation Lindsay Vonn got the ball rolling and solidified her status as a sex symbol for the sport by stripping down to a skimpy bikini and snow bunny cap for Sports Illustrated. While the snaps did generate a little tongue-wagging at the time, Vonn managed to show off her toned physique with a girl-next-door smile. But cut to 2014, experts say the marketing of winter athletes has become more sexualized overall – and it's a trend likely to just keep growing until its part-and-parcel with the job.
"It's a shame when someone who has worked so hard to accomplish so much has to diminish themselves in this way," observed a Bleacher Report writer. "What kind of message is being sent to young kids, and future Olympians, when their sports idols are posing in next to nothing?"
And as Slate.com writer Hanna Rosin points out, NBC is marketing 18-year-old figure skater Gracie Gold as the "face of the Games" based on just that – her exceptionally pretty face, despite not necessarily being the best at the sport, even on the U.S. team. NBC did not immediately respond to a request for comment.
On the flip side, others argue that if you've got it you may as well flaunt it. After all, these athletes have no doubt worked tirelessly to achieve figures hot enough to melt the ice.
"Winter sports lack the mainstream audience and familiar faces of summer games. Sex sells. When an athlete spends most of her time covered in a snowsuit and helmet, it only humanizes her to show a little skin – enough to profile a sponsor's brand," said Jason Maloni, Senior Vice President of Levick Strategic Communications. "And that's in addition to providing a great visual of fit, toned bodies."
Game on.
Follow @holliesmckay on Twitter.
Hollie McKay has been a FoxNews.com staff reporter since 2007. She has reported extensively from the Middle East on the rise and fall of terrorist groups such as ISIS in Iraq. Follow her on twitter at @holliesmckay