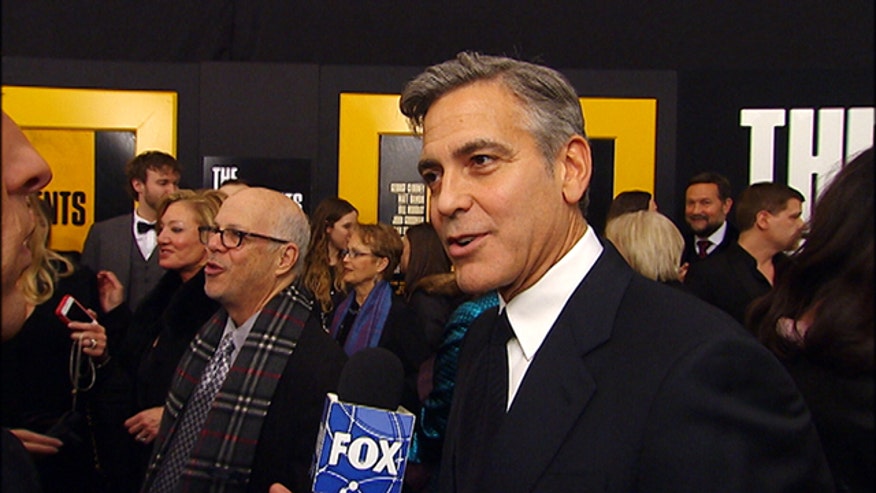 Here's what all the kids are talking about:
Victoria's Secret model Doutzen Kroes announced her second pregnancy via Instagram with a naked photo of herself and her (not yet bumpy) baby bump..
Miranda Kerr, too, took the topless route on Instagram, but she was more likely trying to drum up some publicity for her new H&M gig.
George Clooney told Variety that he'll never get a Twitter account, mostly because he likes to drink, and he fears he's say something stupid while drunk.
Michael J. Fox's sitcom has been canceled after just one season on the air. All you MJF fans will just have to wait until he decides to sign on for the "Back to the Future: Part 4" sequel that we've been writing in our basement.
E! Online is reporting that it was probably Selena Gomez's breakup with Justin Bieber that sent her to rehab. Although apparently, she only stayed for two weeks of the six-week program.
Former Cooking Channel host and professional mixologist Darryl Robinson was found dead in his Brooklyn apartment on Wednesday. He was 50.
"Meet the Fockers" actress Teri Polo is being sued by her former landlord for allegedly leaving copious amounts of her pets' odorous urine and feces behind when she moved out.
Tom Sizemore is already recanting his story about Bill Clinton hooking up with Elizabeth Hurley in the White House, saying the old audio recording obtained by RadarOnline was probably "the rantings of a guy … who had a very severe drug problem."
Guns N' Roses frontman Axl Rose wasn't too pleased with the Red Hot Chili Peppers for miming their Super Bowl performance, and he says as much in this lengthy, sarcastic open letter.
Guaranteed To Make You Smile
Axl's ex-girlfriend, 45-year-old Stephanie Seymour. is also making the news, as she's signed on to be the newest face of Estée Lauder.
Mark Wahlberg was spotted looking pretty thin while filming his latest movie. We're going to guess that he's been laying off the Wahlburgers in order to fetch himself a statuette come next award season.
Ted Danson told Conan O'Brien about the time he and his "Cheers" co-star Woody Harrelson decided to take mushrooms during a boat trip. But really, but this point, who hasn't done mushrooms on a boat trip with Woody Harrelson?
Self-admitted pot-head and 67-year-old actress Susan Sarandon talked about her new 36-year-old boyfriend in an interview with AARP.
And finally, Johnny Depp brings Marilyn Manson along when he drops his daughter off at school, because they have a bromance like no other.