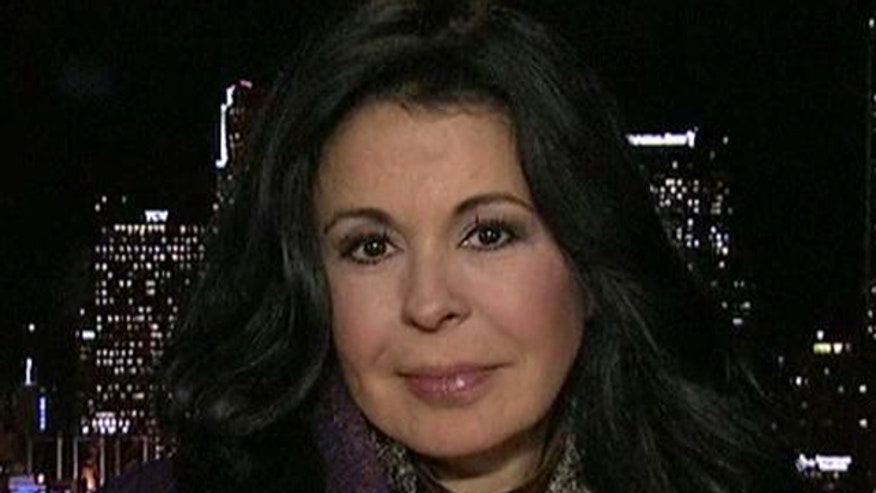 Maria Conchita Alonso, the singer and actress whose recent video campaign ad for a Tea Party gubernatorial candidate unleashed a torrent of criticism of her, says that she and the politician are being unfairly maligned.
Alonso came under attack by several Latino and immigrant rights advocacy groups after she appeared in a political video ad endorsing California Assemblyman Tim Donnelly, known for founding a state chapter of the Minutemen and for his hard-line views on immigration.
"We did not expect this reaction at all," said Alonso, who is best known to the U.S. public for her co-starring role in "Moscow on the Hudson" with Robin Williams in the 1980s. "I am not anti-immigrant, he is not anti-immigrant."
We did not expect this reaction at all. I am not anti-immigrant. He is not anti-immigrant.

- Maria Conchita Alonso, singer and actress
"He is anti-undocumented immigrant," she said in an interview with Fox News Latino on Tuesday. "It's different than being anti-immigrant, which he is not. We have a right to protect our borders. Tim knows there are many good Latinos out there. He respects them because they don't beg, they go out looking for work."
In the past, Donnelly has expressed support for strict immigration enforcement, and has vehemently opposed policies that call for giving a break to people who live here illegally. Donnelly has said giving breaks to them would encourage more to come illegally.
Alonso, 57, said she has been discussing immigration issues with Donnelly, who holds a more hard line than she does, and has been urging him to rethink certain aspects of it.
Alonso favors pursuing and deporting immigrants who have committed crimes, she said. But undocumented immigrants who are already in the United States, have not had trouble with police and have paid taxes and contribute in other ways, she said, should be given a chance to legalize their status.
Alonso said that Donnelly – who is vying to be the Republican Party's nominee to run against incumbent Gov. Jerry Bown – said he is softening his stance on allowing undocumented immigrants who were brought to the United States as children to attend college at the same tuition rate as other California residents.
She also said that in a conversation with the candidate Monday night, she pushed for the need for undocumented immigrants to be able to drive legally in the state — something Donnelly has opposed.
"He said 'Well, these are things to think over,'" she said. "He said 'They're not things to make decisions about right away.' That's what I like about him. He's willing to listen, and to change his mind. You can have a dialogue with him."
Alonso said she agrees with his views on the need to raise the minimum wage, bring more jobs to California, and the right to own guns.
"I have a gun in my home," she said. "People should have the right to defend themselves."
She said that she does not agree "100 percent" with all his views, including those that condone hunting.
"But you can support someone – like a candidate, even your partner, your spouse – without agreeing with them 100 percent," she said.
Some groups that favor more leniency in immigration laws reacted angrily to Alonso's support of Donnelly, and her participation in a video that struck many as condescending to its target audience — Latino voters.
In the campaign video, which was released last week, Alonso holds her Chihuahua, whom she introduces as "Tequila," and at times uses vulgar expressions as she translates into Spanish remarks by Donnelly about his views on various issues.
Critics said she had allowed herself to be used as a political token by a candidate who many in California consider anti-Latino.
The backlash grew so intense that it prompted Alonso to drop out of a Spanish-language version of "The Vagina Monologues," planned for next month at the Brava Theater Center in San Francisco's Mission District, an area known for its liberal views. She said some people angry over the video had threatened to boycott the theater and burn it down.
Alonso said that she can accept criticism of her endorsement of Donnelly, and even of the video and her and Donnelly's political views. But she said that distortions, threats and personal attacks were not acceptable.
"People said we just got a Chihuahua for the video and said his name was Tequila just for a stereotype in the video," she said. "That is my dog, I rescued him from a shelter years ago and I had some shots of tequila before I went there and decided to name him that. That's all. And he was in the video because I take him everywhere I go."
Donnelly's campaign did not respond to a request for comment.
But in The Daily Caller, Donnelly's strategist, Jennifer Kerns, is quoted as saying: "The conservative woman in America is the most endangered species. If you support a conservative candidate you are immediately attacked."
"She decided to support Tim," Kerns said. "We have some mutual friends in common. As the conservative in the race, Tim has been accused of being anti-Latino or anti-immigrant and so she chose to stand with him. . ."
In the meantime, Alonso said, she is balancing her support for Donnelly with work on a reality TV show, and a Spanish-language TV series. She is hoping the show – which will feature her, her boyfriend, Fernando Barrera, and her 14-year-old son – and series get picked up.
Elizabeth Llorente is Senior Reporter for FoxNews.com, and can be reached at Elizabeth.Llorente@Foxnews.com. Follow her on Twitter @Liz_Llorente.