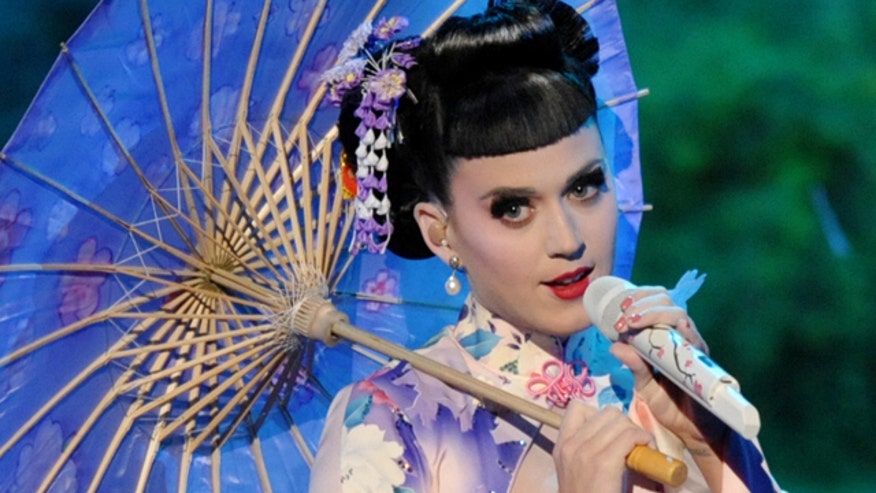 Katy Perry offered a visual feast for viewers at the top of Sunday night's American Music Awards.
Perry wore a traditional Japanese dress during her show-starting performance of "Unconditionally" as scores of colorfully clad dancers waved fans, danced in front of rice-paper screens and played the drums.
She said before the show she wanted to up her game, given the chance to open, and the whirling stage production was a wash of colors and movements before Perry disappeared in a puff of smoke.
But not all AMA viewers appreciated Perry's efforts. Only moments after her performance began, some took to Twitter, charging that the pop star's stage costume was racist.
I guess Katy Perry really didn't want to be left out of the mind-numbingly ignorant and racist pop-star hall of shame.

— a v snider (@what_freshhell) November 25, 2013
@katyperry returns to her roots as trite and ignorant in her performance as a "geisha." Brings me back to the days of 'Ur So Gay.' #AMAs

— David (@dmv310) November 25, 2013
But many viewers weren't offended by her outfit choice, and they took to the Twitterverse to defend Perry.
These claims of Katy Perry's AMA performance being racist are absolutely ridiculous. Appreciation and appropriation of other cultures is ok.

— DANNN (@iamdanbrooks) November 25, 2013
It honestly bothers me that people believe @katyperry performance was a racist act. She loves the Japanese culture and japan loves her

— Laura Kamada (@look_itsLaura) November 25, 2013
The Associated Press contributed to this report.