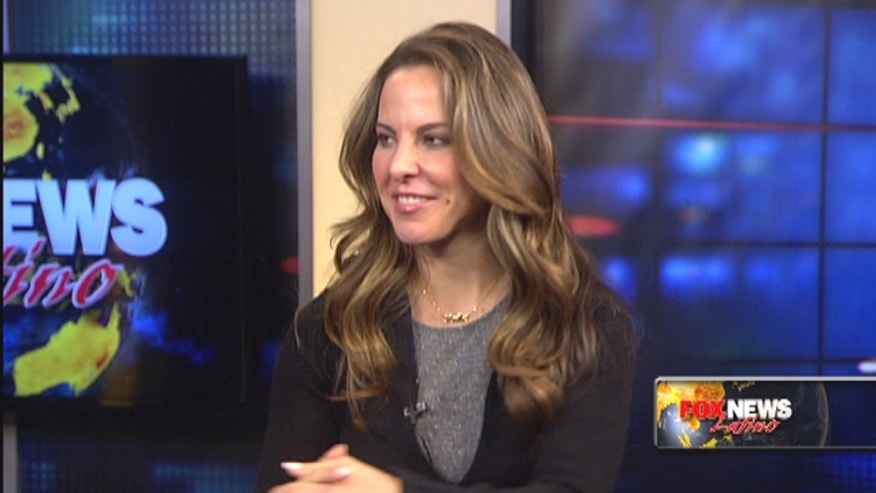 In the upcoming movie "A Miracle in Spanish Harlem," veteran actress Kate Del Castillo plays Eva, a woman who returns to her New York barrio after a long hiatus and helps a man (played by Luis Antonio Ramos) find his faith and rediscover his lust for life.
"She's kind of his angel in a way," Del Castillo told Fox News Latino of her benevolent character in the film, adding that the movie is also "about the decisions that make us who we are."
The role is a fitting one for the Mexican actress, 41, who revealed she believes in miracles in real life.
"I think it's a miracle that we're still alive," Del Castillo says. "Every single day that I wake up, I just thank God that I'm alive," she added.
And one of those miracles, Del Castillo said, is that the film is being released in theaters this December.
"It's one of those indie movies that takes so much to do and to raise the money (for)," Del Castillo said of the film, which also stars Luis Antonio Ramos, Tony Plana, Adrian Martinez and Priscilla Lopez.
"For us, it's like, 'oh my God…it's going to get out there!' We're so happy," she said.
In a sea of big-budget year-end movies, she added, "A Miracle in Spanish Harlem" is a little gem of a film that deserves to be seen.
"You know what I love about this movie?" she asked Fox News Latino, "That it's not pretentious at all – we're not competing with the big Hollywood movies…It's just a beautiful movie that has heart," she says.
Del Castillo has been working in the entertainment industry for over 30 years and she's starred in countless telenovelas including "Muchachitas" (1991), "Azul" (1996), and most recently as the powerful drug trafficker, Teresa Mendoza in "La Reina del Sur" (2011).
She also had a recurring role on Showtime's hit series "Weeds" in 2009 and she's starred in a plethora of acclaimed independent films, including "Under the Same Moon" (2007) – opposite America Ferrera – and the 2008 film "Julia" (opposite Oscar-winner Tilda Swinton).
For Del Castillo, finding challenging and meaty roles that require her to transform physically – and emotionally – is what it's all about.
"I always try to go for different roles," the actress says. "I love to see my demo reel and go 'oh my God, I don't even recognize myself!'"
"Changing very much physically," she adds, "for me, that's the fun part about my work."
Among those unrecognizable roles was the part of a transsexual in the film K-11 (2012), an experience Del Castillo calls "totally challenging."
"Especially because I didn't know much about transgender," she says. "It was a fine line between going cartoonish or doing something real," she adds.
Shifting back and forth between Spanish-language and English-language roles – and somehow managing to make it look easy – Del Castillo notes that her crossover into Hollywood has been different from other actresses, like "Modern Family" star Sofía Vergara.
"It's different," Del Castillo said. "I've been more on the indie side doing a bunch of movies. I've also done television, just different kinds of television projects," said the actress, whose Telemundo soap "La Reina del Sur" is currently being re-aired after it famously topped CBS, ABC, NBC and Univision in the ratings back in 2011.
Still, the actress says she has a great deal of respect for Vergara."I love her and she's really, really funny and smart," she said.
Del Castillo added that she and Vergara are different from other Latina stars in the business – like Jennifer Lopez and Eva Mendes.
"We're all Latinas, but it's just different generations – we were born and raised in our countries vs. they were not," she explained.
And despite her 30+ years in the business and all that she's accomplished, Del Castillo said there's still a lot she wants to do in Hollywood.
"Oh my God, so much!" she said, adding that she would love to work on a hit English-language show like "Homeland" or "Scandal."
"Especially now," she says. "Television is so amazing. The money they spend…I mean you can see it right through the screen. And I love that they really go deep, like 'House of Cards' or 'Homeland,'" she said.
Still, Del Castillo is not the type to sit around and make plans about her future.
"I don't bother thinking, because then, life is too short," she said.
"I'm so happy with who I am and what I am right now. I don't know if it's age, I don't know if it's experience, but now, I just thank every single day, you know?"
"There's so much I haven't done but really it's not even worth just thinking…just go do it!" she added.
And while she's not big on making plans, Del Castillo says she is planning and preparing for Thanksgiving, since her family is coming to visit her in L.A. this year.
"I'm very nervous because I don't know how to cook," Del Castillo said. "I'm going to have to pretend I'm going to do the turkey and pay someone else to do it," she says with a laugh, adding that she's not a big fan of the holidays.
"I hate Christmas. I'm like the Grinch," she said. "I'm happy all year…it's just a lot of marketing stuff and I don't like it."
Lee Hernandez is the former Entertainment Editor for Latino Voices at The Huffington Post and the former Deputy Editor, Digital at Latina Magazine. He can be reached at Steinbecksletters@gmail.com or on Twitter.
Follow us on twitter.com/foxnewslatino
Like us at facebook.com/foxnewslatino