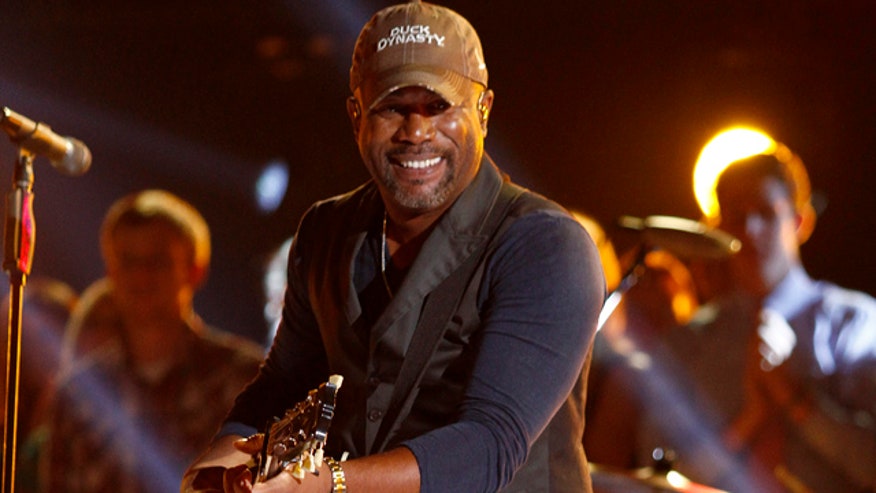 Country music stars are the ones doing the entertaining when they're on stage, but they need entertainment themselves when they're traveling in between concerts. They shared with FOX411 Country what they do, what they're watching, what they're eating and the funniest items one might find on their tour buses.
10. Darius Rucker: No fewer than seven televisions, and as for what he's watching: "Usually sports."
9. Kristian Bush: A record player, which he notes you obviously don't play while the bus is moving.
8. Little Big Town: A princess potty. They travel with their kids and say there are "lots of toys."
7. Easton Corbin: A gator head, because he's a "Florida Gator."
6. The Band Perry: Kimberly loves watching "Say Yes To The Dress!" She says for her it's "all reality TV, all the time."
5. Kellie Pickler: "I love comedy; I love scary movies. I'm a big movie girl."
4. Kip Moore is listening to Otis Redding , while Tyler Farr is listening to Tupac.
3. Scotty McCreery keeps his bus stocked with snacks, especially "hot and spicy Cheez-Its" and "maple brown sugar Pop Tarts."
2. Love and Theft made a time capsule out of a John Wayne Lunch box. (Eric paid "14.99 for that thing!")
1. Craig Campbell takes his most unique item outside of the bus-- a visor with built-in spiky hair. When he goes out into the crowd, they call it "In-Craig-Nito."
Fox News Entertainment Producer Ashley Dvorkin covers celebrity news, red carpets, TV, music, and movies. Dvorkin, winner of the 2011 CMA Media Achievement Award, is also host of "Fox 411 Country," "Star Traveler," "Fox 411 Big Screen," and "Fox on Reddit."