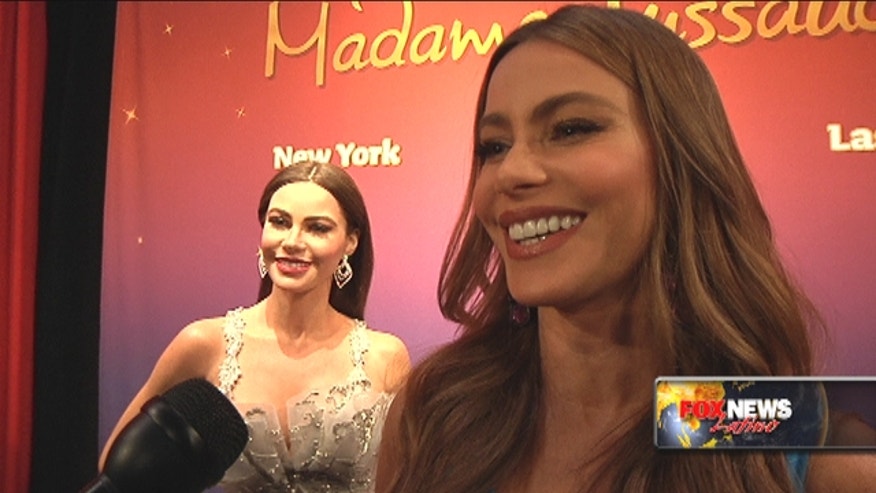 New York, NY – It was triple the fun with Sofia Vergara at the world famous Madame Tussauds Wax Museum in New York City on Tuesday, where two lifelike wax figures were unveiled in her honor.
"I am so proud, very honored they picked me to do my two wax figures," Vergara told Fox News Latino. "I really hope that people come and take pictures with them and really have fun with me."
One of the wax figures will be on display in New York City wearing the original handmade dress she wore to the 2012 Met Gala. The other Vergara doppleganger dons a dress the star wore during the promotion of Modern Family Season 3 and will be displayed at the Las Vegas museum in honor of the character that made her famous - Gloria.
"It's a dress that I wore in Modern Family, it's one of my favorite Gloria outfits," Vergara said. "Gloria is very important to me and my life and I wanted one of my figures to look more like her."
Vergara said she only spent two hours with Madame Tussads Wax studio artists.
Over 300 pictures and measurements were taken of the Colombian star and sent to London, where artists sculpted the wax to life – down to every last strand of hair.
"The hair is human, it's real hair" said Nicole Arenas, marketing manager at Madame Tussauds."It's inserted individually one piece by one piece, then we do the makeup with oil paints, and after that we put on her fabulous gowns."
Arenas said the museum was flooded by requests and her name consistently showed up on fan surveys.
Vergara joins a small group of Latinas at the museum, including Penelope Cruz, Salma Hayek and Jennifer Lopez, who are immortalized at the wax museum.
And who does Vergara hope to stand next to?
"I don't know, maybe to the president of the United States, or to Sophia Loren, or maybe Michael Jackson," Vergara said.
Then, she jokingly added that she didn't want to feel inferior next to another stunning actress.
"I don't want to be next to Angelina Jolie," she said with a chuckle.
Follow us on twitter.com/foxnewslatino
Like us at facebook.com/foxnewslatino
Bryan Llenas currently serves as a New York-based correspondent for Fox News Channel (FNC). Click here for more information on Bryan Llenas. Follow him on Twitter @BryanLlenas.