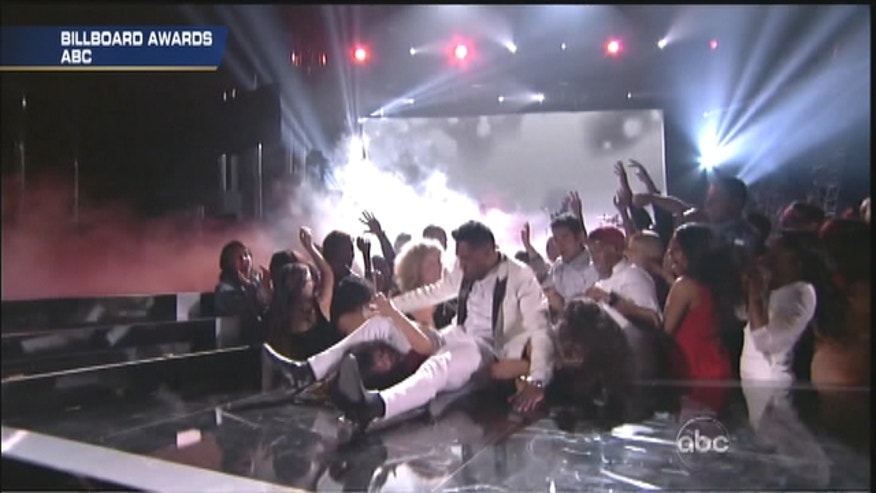 Miguel is continuing to be clouded by controversy.
Weeks after accidently kicking and landing on a fan during his performance at the Billboard Music Awards, the "Adorn" singer may now be facing a lawsuit.
While the audience member he accidently injured was all smiles after icing her injured arm, the young woman has apparently had a change of heart.
After experiencing "difficulties" as a result of the injuries, ill-fated fan Khyati Shah is now "considering" legal action.
Shah's attorney, Vip Bhola, said a decision will be made on whether or not they will be filing a lawsuit against Miguel once they receive her most recent medical results.
Even though a timeline was not given, Bhola told E! News that will be determined "after we have feedback from medical providers."
Bhola has yet to speak to Miguel's legal team, though he said Shah is open to a settlement.
Despite receiving special treatment from the R&B crooner, including being shocked and "star struck" when she was interviewed on camera with Miguel, her attorney said in recent days that her condition has worsened.
Miguel has not commented recently on the issue. But immediately after the mishap, he apologized to Shah on Twitter and promised to make it up to her.
"Got caught up in the moment, thank goodness Khyati is okay," he tweeted.
Miguel probably did not think he would have to go to court to make it up to her.
Follow us on twitter.com/foxnewslatino
Like us at facebook.com/foxnewslatino