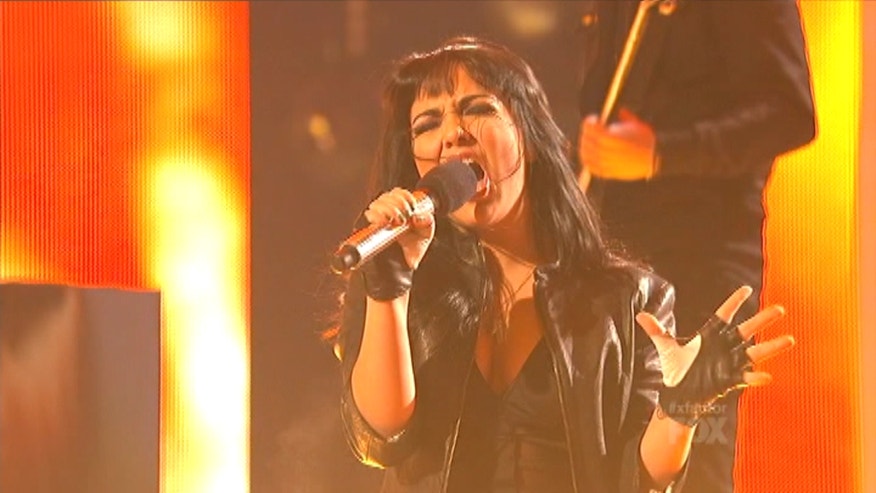 Jennel Garcia loves rock and roll and Wednesday night on "The X Factor" she proved she's a rock star.
Rocking out with her new brunette look, Garcia sang Joan Jett's "I Love Rock and Roll" and nailed a steamy performance, although music giants L.A. Reid and Simon Cowell criticized her for what Reid referred to as "lack of originality."
"Yes it was good, but I have a real problem with that performance," said Reid as the crowd calmed down from the over bearing applause.
"My problem is that it was a Joan Jett parody," he continued. "I just didn't see the originality or the inventiveness. I just didn't quite get that."
Upon hearing this Garcia's face fell flat. But, pop singer Britney Spears cheered her up saying she thought the performance was "hot, hot, hot."
Cowell, on the other hand, sided with Reid before getting into a quarrel with Garcia's mentor, fellow Latina Demi Lovato.
Jennel I really, really like you," Cowell began. "But you've got to listen to me here because this is important. I don't like what Demi has done to the way you look. I really mean that. You are unrecognizable from the person we first saw because you were like kind of like fun and charming."
Lovato was not pleased with Cowell's opinions on Garcia.
"Just accept that she was amazing," Lovato said, and as if on cue the crowd went berserk clapping and cheering.
"I am her mentor and you are not. Look around in this audience all of the girls are going crazy," she added.
Cowell, who in the past told Garcia she looks like a Lovato look-a-like, should "challenge" herself because she's a "a lot better" than what she showed during her performance Wednesday night.
On Thursday night viewers at home will be the ones voting which contestants stay and which ones get booted off.