Will President Obama's delays to his health care law provide needed cover for vulnerable Democrats?
The same New York press that helped put Chris Christie in the spotlight may also be promoting his political ruin. 
While President Obama is down, he's going anywhere but up. 
Is the modern political landscape minimizing the realities of most voters?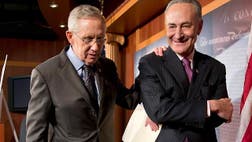 Are Democrats and President Obama really scoring a win by ramping up their efforts to play to the liberal base?
Will President Obama's fix be a further foil for Democrats?
President Obama and Democrats are turning on the insurance companies that helped pass ObamaCare
President Obama is asking Democrats to "grind it out" and stick with him and his embattled new entitlement program despite a disastrous launch and new revelations that he misled voters with claims...
President Obama's "you can keep it" promise was either a deception to earn votes or the result of systemic failures at the White House.