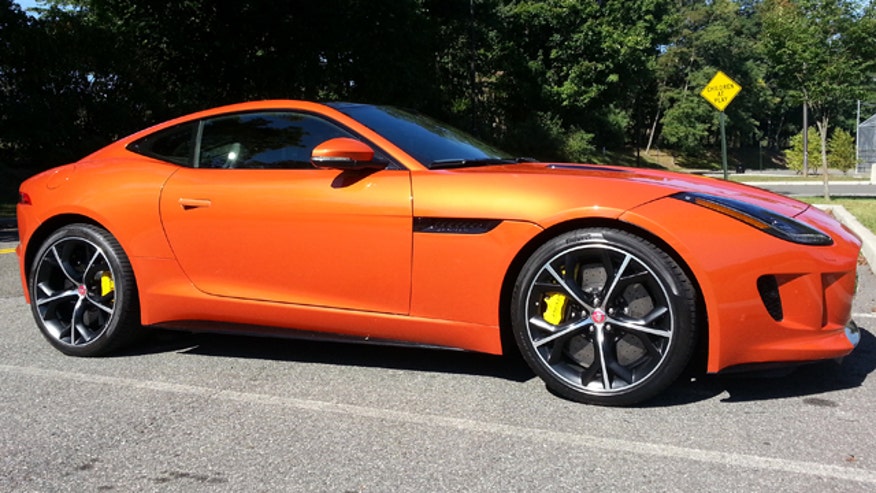 The Jaguar F-Type R Coupe doesn't just get attention. It reaches out and grabs it by the scruff.
If its slithery bodywork isn't head-turning enough for passers-by, the sound of small arms fire that comes out of its quad exhaust pipes will force the issue. Behind the wheel, things are even better.
When Jaguar designed last year's F-Type Convertible, it didn't just chop the top off of a coupe. It optimized its chassis for open-air motoring. That means that when they got around to putting a roof on it, all sorts of wonderful things happened.
Most important, it made it even stiffer, on the order of more than 80 percent. That's typical, but unlike most convertibles that are floppy and limp, no one was complaining about the convertible's virility, so the coupe is like cold steel. Aluminum, actually, which is what the F-Type is primarily made of.
Then there's the look. The convertible is elegant, but the coupe's muscular haunches and fastback roofline simply reek with power and speed. And, of course, it offers quite a bit of both.
The starting price of $66,925 gets you a 340 hp supercharged V6 that's more than you'll ever need, and an extra 12 grand buys you another 40 horses and a suite of performance tack to go with them. Neither of those compares to the sheer absurdity of the F-Type R's 550 hp supercharged 5.0-liter V8, which may actually be a steal at $99,925.
Cheap? Very! At least compared to the $150,000 that you'd drop on a 520 hp Porsche 911 Turbo.
Along with the engine and the very accurately named QuickShift 8-speed automatic transmission that goes with it, that outlay gets you a computer-controlled active suspension, an electronic rear differential that maximizes traction, exhaust bypass valves that unleash a harbinger of the apocalypse, a 0-60 mph time of 4.0 seconds (yea, that's quick) and a governed top speed of 186 mph. The car is definitely capable of going faster, but I think we're good.
Sport seats with huggy, inflatable side bolsters come standard, as does a 770-watt Meridian audio system that seems like overkill in a two-seat GT, but since this particular model is the incarnation of "more," why not? Navigation is also included, but the touch-screen infotainment system that runs it is out-of-date and the one thing I wish there were less of.
The F-Type's interior is otherwise flawless and very handsome in a simple, let's-get-down-to-business sort of way. After seeing these cars around for a year, I'm starting to think some of the more ornate swagger from the cabin of the Jaguar XJ sedan would serve well to set it apart. Nevertheless, it's sharp, especially if you order up the $2,200 leather headliner and sunscreens.
Or you can just step on the gas and forget about all of the above in a flash. But be gentle when you do. It only takes a light prod at the throttle to burn rubber, even with all of the electronic safety nannies activated. Apparently, they studied at the Mary Poppins school of let's get crazy.
Mind yourself, and the F-Type is nimble and neat, with quick steering and tremendous amounts of grip. It's not the lightest car on the block, more Mustang than Corvette, but it manages its weight well with a firm yet forgiving ride courtesy of those trick shocks and Jaguar's traditional suspension tuning excellence.
Still, absolute madness is ripe for the taking. Press the button that activates the sport exhaust and the F-Type turns into a one-car Rolling Thunder parade. Every time I drove through a quiet park or forest I felt terrible as I laughed out loud at the absurdity of it. But, no, I didn't turn it off.
The dynamics can also be wretchedly excessive. Give it more than half the gas in a turn and the rear tires turn into clouds of smoke as the back of the car desperately tries to become the front. It's exciting in a way few cars dare to be these days, and very possibly worth the price of admission, although one could argue that the racing-style $12,000 carbon ceramic brake package featured on my test car was one checked options box too many.
Of course if you still like the idea of a convertible, the coupe is available with a panoramic glass roof. It doesn't open, but it lets in the sun without mussing your hair, which in a car that gets the kind of attention that this one does can be very important.
----------
2015 Jaguar F-Type Coupe
Base price: $99,925
Type: 2-passenger, 2-door coupe
Engine: Supercharged 5.0L V8
Power: 550 hp, 502 lb-ft
Transmission: 8-speed automatic
MPG: 16 city/23 hwy
Gary Gastelu is FoxNews.com's Automotive Editor.