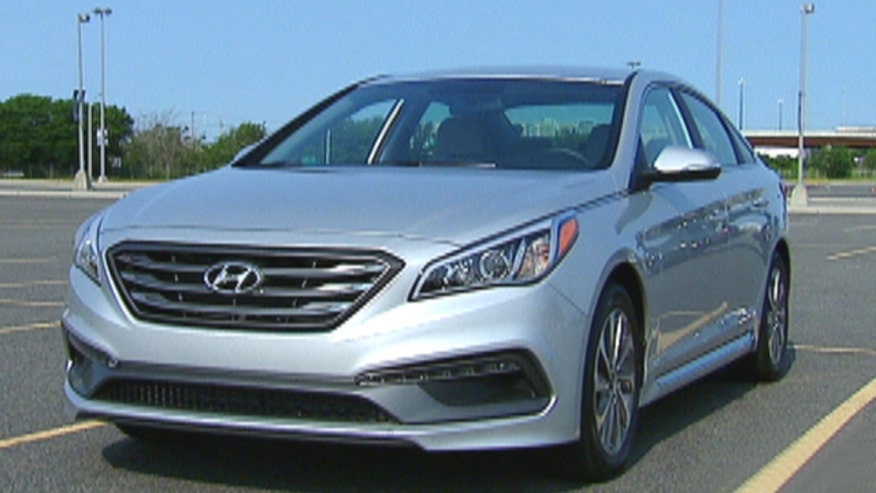 The all-new 2015 Hyundai Sonata is the only car I know of that has a pianist – well, a recording of one – who greets you when you open the door. Maybe there are others, but the faux classiness is so in-your-face forte, it's impossible to ignore.
It's just one example of Hyundai's effort to give its bread-and-butter midsize sedan a more upscale image in its ever-competitive segment. Another is the brand's new beveled and bolder exterior design, which debuted on the Santa Fe crossover last year, and the Sonata wears it well. Sure, in profile, it could be any of a half-dozen cars, and they're all good looking ones. But the Sonata's face is distinctive.
The interior also gets a more serious look, with the sort of driver-centric dashboard layout you see in high-end sports sedans. The materials and build quality aren't quite up to that standard, but it's a nice enough place to spend the day. And it's Titanically roomy; the cubic footage technically pushes the Sonata into the large-car segment, likely to the chagrin of the full-size Hyundai Azera, which is only one cubic foot larger inside.
USB and Bluetooth are standard on all trim levels, while navigation, climate-controlled leather seats and even sunscreens for the rear door windows are in the offing. Not bad for a car that has a starting price of $21,960 – the lowest in its class and a couple of hundred bucks less than last year's Sonata.
A six-speed automatic transmission is the only one available, and the base engine is a 2.4-liter four-cylinder. At 185 hp it matches up perfectly with the competition, but it's a little overmatched by the Sonata itself. It doesn't love to pull out and pass, but it gets up to 37 mpg on the highway – 35 mpg in the Sport model that I tested, which is probably the one you're most likely to buy or rent. If you need a little more kick, a 245 hp Turbo Sport is available for $29,385, along with an Eco model coming in the fall that has a 177 hp 1.6-liter turbo and adds a couple of mpg.
A safety package with 360 degrees worth of sensors and alarms helps keep you from running into things, and a radar cruise control system does that when you're going straight ahead. My test car had none of these, nor did it have the Sonata's interesting new automatic trunk-opener, which pops the lid when you stand next to it for three seconds with the key fob in your pocket. Ford and BMW offer a similar feature on some models, but they make you wave your foot under the bumper to activate it. Exactly how lazy you want to be is a matter of taste, but the latter method seems less prone to unintentional openings when you're just chilling by the car.
On the move, the new Sonata's ride is spot on, not at all springy like past editions, and the cabin is hushed. There is absolutely nothing to get excited about, but no reason to complain, either. I recently put 500 miles on a similarly trimmed Toyota Camry and came away astonished that it's the best-selling car in America. The Hyundai is much more pleasant and refined, and with its epic warranties and five years of roadside assistance, it's well worth a look.
Ultimately, the newest Sonata is more of what it's always been: a competitive car at a value price, that now lives up to its musical name in a big way.
(When you park the car, the piano plays you out, too. It gets old. You can disable it. Please do.)
----------
2015 Hyundai Sonata Sport
Base price: $23,985
Type: 5-passenger, 4-door sedan
Engine: 2.4-liter 4-cylinder
Power: 185 hp, 178 lb-ft torque
Transmission: 6-speed automatic
MPG: 24 city/35 hwy
Gary Gastelu is FoxNews.com's Automotive Editor.