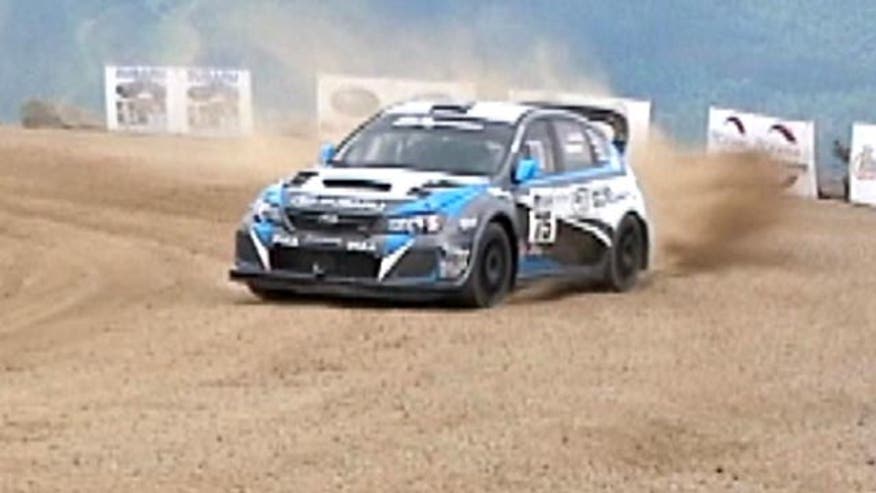 A new record was set at the Climb to the Clouds rally race in New Hampshire on Sunday.
Subaru driver David Higgins raced up the 7.4-mile course in just 6:09, slashing more than two seconds off of the previous record he set in 2011.
The Climb to the Clouds is a hill-climb up the Mount Washington Auto Road to New England's highest peak. Drivers race against the clock, competing for the fastest time.
The race is historic, dating back to July 1904. "It's one of the oldest sports events in the entire country, if not North America," according to event director Paul Giblin.
The course is one of the most challenging hill-climbs in the country. With steep dropoffs and hairpin turns, drivers battle a number of elements on their way to the top of the road, which is a mix of dirt and asphalt. The drive is technically challenging for even the most experienced professional racers and not every competitor makes it to the top.
Veteran driver Andrew Comrie-Picard says it's all about balancing speed and safety up the mountain.
"I am now at about nine-tenths of aggression," he says. "If I turn it up to ten-tenths, the risks become exponentially higher. The question now coming into race day, should you turn up the knob just that last little bit to try and set a record? Or should you keep it where it is just to make sure you finish?"
The race to become "King of the Hill" is a favorite on the circuit, and this year it is a qualifying event for the Rally America series. Drivers from all across the country arrived to compete.
The high-action sport is a thrill to watch. Hundreds of spectators trekked up the mountain to a get a look at the action.
"One of the reasons I love this sport is we are doing the most improbable things you can do with a car you can go to the dealership and buy, " Comrie-Picard says. "We are jumping it, sliding it sideways. We are taking it up a mountain at a 100 mph. It, for me, is the ultimate expression of great motoring."
Drivers tear through each checkpoint at breakneck speeds and typically use co-drivers to tell them what's coming up ahead.
Legendary rally driver Tim O'Neil raced up the summit solo, but says it helps to have someone else next to you in the front seat. "That's how rallying works. You need to drive with what you hear. If you wait to see something and then react to it, it's probably too late."
A variety of cars compete in the challenge. From vintage to electric, modified to racing specs.
O'Neil drove an electric car for the first time up the mountain this year. "I've never driven an electric car," the owner of Team O'Neil rally school says. "The biggest deal with the electric car is there is no noise, so no audible cues. You really don't know how fast you're going."
Other drivers like Comrie-Picard, who drove a Ford Fiesta, take stock cars and modify them for the track. "One of the things we say about rallying is: it's real cars, on real roads, real fast," he says. "So we take a production-based car, strip it down and build it back up again. But it's still quintessentially a production car."
The Mount Washington Auto Road is privately owned and open to the public from spring to fall for anyone looking for their chance behind the wheel, but closer to the recommended speed limit of 25 mph.
"Any [video] shot of a car racing up this mountain should have 'professional driver closed course on the bottom' because we are idiots, but we are trained idiots….You should come and drive it with your civilian car, but don't try and drive it like we do," advises Comrie-Picard.
Hillary Vaughn is a correspondent for FOX News Channel and FOX Business Network and is based in Los Angeles, CA.
Twitter: @vaughnFNC