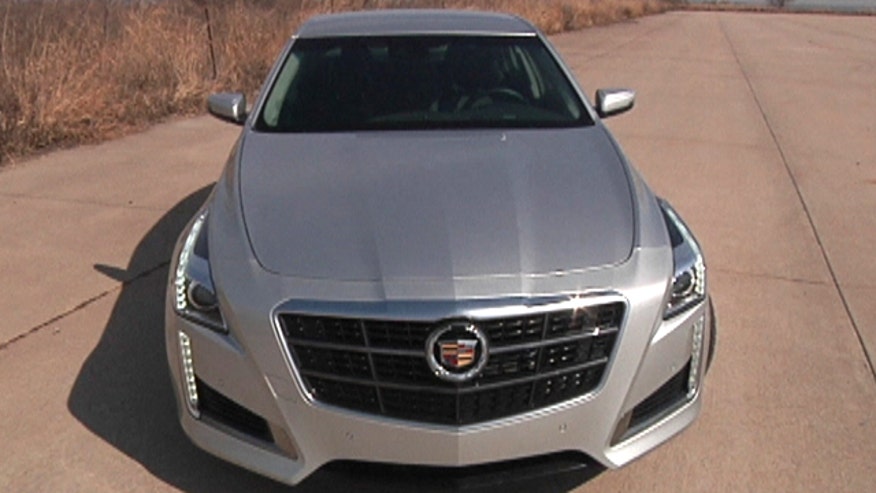 If the stylish and sporty ATS compact was Cadillac's warning shot at the premium Import brands, then 2014 CTS is its full frontal assault.
The all-new midsize sedan is bigger and bolder than the outgoing model, with a more luxurious interior and fierce face that leaves no doubt that it means business. Its slim, slim, swept-back headlamps, LED light bars and prominent grille drawing eyes with the best of them.
And by best of them, I mean Sofia Vergara. Short red dress. Plunging neckline.
It's long, lean flanks are just as impressive, if a little more luxury generic. The first thing my local parking attendant asked when he saw the CTS in profile was "is that a Benz?" No, it's not, but the flattery is well-deserved.
Unlike the last generation CTS, which played the role of bargain alternative to the imports, this one can proudly use the front door. That confidence is reflected in a new, higher price scale that ranges from $46,065 to over seventy grand.
At the low end of that, you'll find the CTS fitted with a spunky and satisfying 272 hp turbocharged-four cylinder engine good for 30 mpg highway, while midrange models get Caddy's ubiquitous 321 hp 3.6-liter V6 with an EPA rating of 29 mpg. Both are available with rear or all-wheel-drive and offer largely the same features. That includes radar cruise control, park assist, automatic braking, sun shades, an outstanding 13-speaker Bose audio system and Cadillac's touch-based CUE center console interface which is less outstanding. (It's slow, with unresponsive touch pads. My kingdom for a knob!)
There's barely any cheap plastic to be found in the cabin, which comes nicely-wrapped in stitched materials and with real woods and carbon fiber trims. It's also spacious, with plenty of legroom all around. Unfortunately, feet don't get the same attention.
In the rear, the floor pan juts out beyond the edge of the seat and takes a few precious inches away from the tootsies. It's not surprising, as the CTS is built on a scaled-up version of the ATS platform which has the same issue. Thankfully it's one of few.
This is a light and tight chassis that offers a smooth ride, responsive handling and plenty of speed with either engine package -- although I personally think the turbo is more entertaining. When equipped with GM's Magnetic Ride Control suspension system, which is adjustable and reacts to the road surface up to 1,000 times per second, things just get all sorts of better regardless of what's under the hood.
That's especially the case if you go all-in and opt for the CTS VSport, powered by GM's first twin-turbo V6. It's a 3.6-liter monster that pumps 420 hp and 430 lb-ft of torque through an 8-speed automatic transmission to the rear wheels, no AWD option available here – yet.
So it's a burnout machine par excellence, but also comes with that trick suspension standard, a sports-car style electronic limited slip differential, high-performance Brembo brakes and a heavy-duty cooling package for when you take it to the track.
No, you won't do that much, if ever, with a car like this, but you'll have a pretty good time if you do. This car exhibits zero understeer – or "push" as NASCAR drivers like to call it. You just turn the wheel, stomp on the gas and it goes right where you point it…at least until you push it too far and the rear end starts reminding you to slow down, or hang that bad boy out. In either event, fun stuff.
A premium package that pushes the VSport's price from $59,995 to $69,995 adds a configurable 12.3-inch wide full-LCD instrument display, chunky steering wheel, panoramic sunroof, 20-way adjustable full-leather seats, and all of the electronic safety tech -- my favorite being a joy buzzer that vibrates the driver's seat if you're about to drift from your lane or hit something. It's a feature that may also appeal to all of the doctors brought up on the game of Operation that Cadillac hopes to steal from the import brands.
If you're worried that this all sounds too Euro, Japanese or performance-oriented for a Cadillac, don't be, because the CTS also has a power sliding cover for the cupholders.
If anything is more American than that, please tell me, because I'll salute it.
----------
2014 Cadillac CTS VSport
As tested: $59,995
Type: 4-door, 5-passenger sedan
Engine: 3.6-liter turbocharged V6
Power: 420 hp, 430 lb-ft torque
Transmission: 8-speed automatic
MPG: 16 city/24 hwy
Gary Gastelu is FoxNews.com's Automotive Editor.