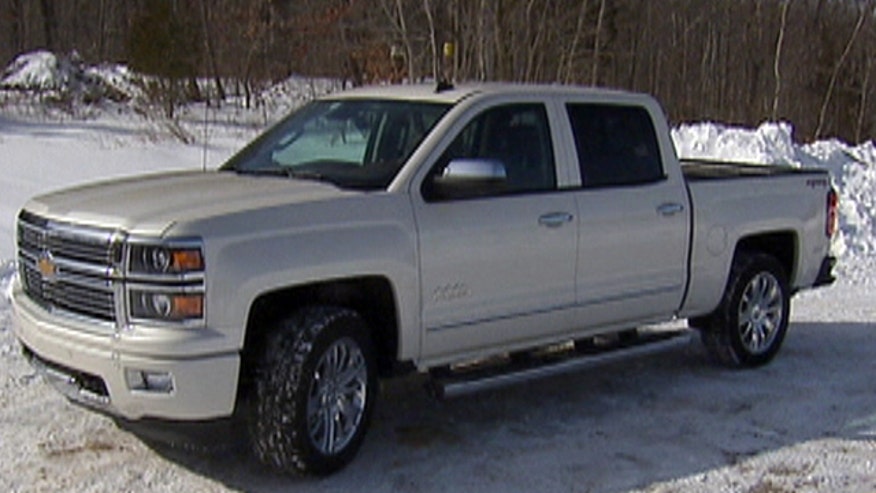 The latest Chevy Corvette Stingray is a fantastic car that can seriously haul a lot of you-know-what, just people or stuff. But now there's an alternative.
The 2014 Chevrolet Silverado High Country is the brand's first premium pickup, and one of only a couple of Silverado models available with a fully truckified version of the all-new 6.2-liter V8 from the Corvette.
The small block motor gets modified intake and exhaust systems for Silverado duty that are better suited to a hard day's work, while retaining the 'Vette version's direct injection and cylinder deactivation for improved efficiency.
You can also order the High Country with Chevy's perfectly adequate 5.3-liter V8, but for $1,995 the 6.2-liter is the big belt buckle in the half-ton class, pumping 420 hp and 460 lb-ft of awesomeness through a six-speed automatic transmission.
In a properly equipped Silverado LTZ, that's good for a segment-leading 12,000-pound tow rating. The High Country is available only in short and standard box crew cab configurations, though, and maxes out at 9,800 pounds. But that's still a pretty stout number for a fancy-pants truck.
Before now, General Motors had left the premium pickup business to GMC, but it has apparently realized that it sells a lot more Silverados than Sierras and that the Chevy is more appealing to the hat and cattle crowd than GMC's urban cowboy style is.
At a starting price of $46,700, the High Country still sits below the Sierra Denali and the top models from Ford, Ram and Toyota in both price and plushness, but is easily the snazziest Silverado ever, all dressed up in saddle brown leather trim and more chrome than a '57 Bel Air.
The entire Silverado lineup was redesigned and much improved for 2014, with previously unimaginable refinement levels helping it earn the 2014 North American Truck of the Year title. Road and wind noise are nearly absent; the well-tuned leaf-spring rear suspension delivers a surprisingly tidy ride; and the electric power steering feels good in your hands, even if you don't opt for the heated wheel.
Available highfalutin high-tech features include an 8-inch touchscreen infotainment system, five USB ports, a WiFi hotspot and a climate-controlled seat that vibrates to alert you if you're drifting from your lane or about to hit something. Beware, you may just find yourself riding close to the shoulder to get a free massage on long trips.
That's the best thing about the driver's seat. The worst? As in the last-generation Silverado, it's off-center, and so is the steering wheel, and not by the same amount. Never noticed that about yours? I apologize for just ruining your life.
You may also find fault with the old-school, column-mounted transmission selector, but since it allows for the use of bench seats in lower level Silverados, I'm on board with that, although a nice leather wrap would dress it up.
Nevertheless, I suspect it's these sorts of things that may be contributing to the relatively disappointing sales of the 2014 Silverado so far. While trying to steal Ford's cult-like F-150 loyalists is likely a fool's errand, the latest, hot-selling Ram 1500 seems to be doing just that to Chevy.
Still, any Silverado fan worth his bowtie should be entirely satisfied with the new one, and the High Country just might snag a few of those blue oval folks next year when the new, lightweight aluminum F-150 drops its own 6.2-liter V8 option and leaves a Texas-sized parking space open for an over-the-top treat like this.
Then again, a new Stingray would fit in there just as well.
----------
2014 Chevrolet Silverado High Country
Base price: $46,700
As tested: $53,470 (4WD Crew w/short bed)
Type: 4-door, 5-passenger pickup
Engine: 6.2-liter V8
Power: 420 hp, 460 lb-ft torque
Transmission: 6-speed automatic
MPG: 14 city/20 hwy
Gary Gastelu is FoxNews.com's Automotive Editor.