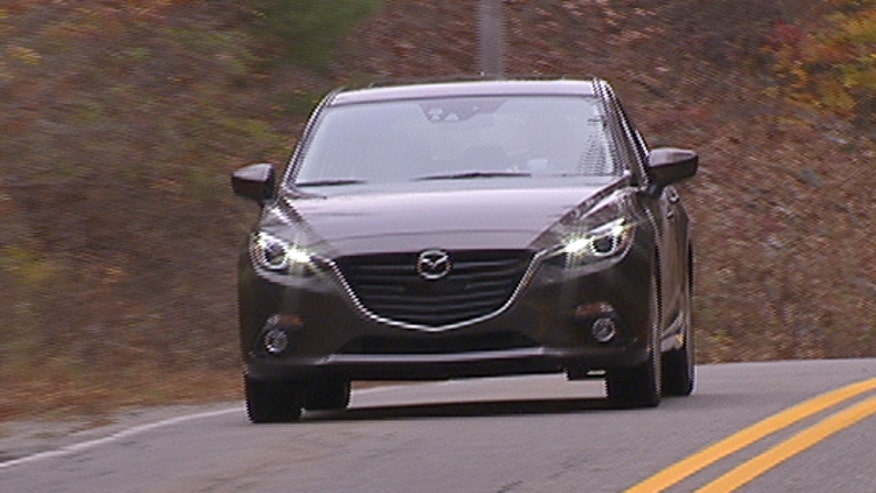 The Miata may be the legend, but the Mazda3 is the one that pays the bills.
The compact is the automaker's best-selling model and all new for 2014 with a starting price of $17,740 as a four-door sedan or $19,740 for a five-door hatchback. Both feature Mazda's gorgeous, swoopy Italianate styling with impossibly long hoods, great fuel economy, upscale cabins and an impressive level of technology for an affordable car.
The front-wheel-drive Mazda3 can be had with either a 155 hp 2.0-liter four-cylinder or a 184 hp 2.5-liter four-cylinder. They're the same engines also offered in the company's larger CX-5 and Mazda6 models. The smaller one is available with either a six-speed manual or six-speed automatic transmission, while the 2.5-liter is currently auto-only, although a stick is coming next year.
I tested a five-door hatchback Mazda3 s with the 2.5-liter and automatic transmission. While five-doors with the smaller engine, designated as Mazda3 i, have an EPA rating of 40 mpg highway, the more powerful motor delivers a still respectable 37 mpg, or 38 mpg with a little help.
Top of the line Grand Touring models are fitted with aerodynamic grille shutters and a unique hybrid-like system called i-Eloop, which features a thermos-sized quick-charging supercapacitor that captures kinetic energy when you slow down then uses it run the car's electrical systems. It doesn't propel the car or enable a stop/start feature, but it does reduce the load on the alternator to save fuel.
The Mazda3 can be ordered with a long list of high tech safety features including a back up camera, parking sensors, blind spot alert, lane departure warning, radar cruise control and a low-speed collision avoidance system that scans the road ahead with a laser and can initiate autonomous braking between 3 mph and 19 mph. It won't bring the car to a full stop, but will help reduce the force of a frontal impact if you take your eyes off the road in stop and go traffic.
That's less likely to happen if the car is equipped with Mazda's new Active Driving Display, a low cost head's up system comprised of a small flip up screen on top of the dash that provides speed and navigation information. The fact that you can abbreviate it ADD is simply a coincidence, I suppose.
Top level models also get a comprehensive infotainment system that's controlled by either a tablet-style touchscreen on top of the dash or the authoritatively-named Commander knob and button cluster on the center console. Fully outfitted, it features navigation and e-mail integration that can read incoming messages aloud and is, amazingly, compatible with a Blackberry, as well as IOS and Android devices.
Gizmos aside, the Mazda3's cabin is terribly handsome, possibly the best looking one in the company's current lineup, and its latest cars are far from slouches in this department. The materials are top notch down to the carpets, and the seating position for the driver is as perfect as you'd expect from the Zoom Zoom brand. Rear legroom is average, but the cargo bay floor is so long that the Mazda3 could pass for a wagon.
Or a sports car. The Mazda3 has the sort of predictably great handling you'd expect from the brand, coupled with a comfortable ride around town The engine doesn't have a lot of grunt out of the blocks, but it loves to rev and pulls strongly when it does. It feels very light on its wheels and has the balance of a tightrope walker at its limits. Unfortunately, the stock tires aren't particularly grippy so it's easy to reach the edge if you push it, but is a ton of fun when you're there.
The only shortcoming of this car is a higher level of wind and road noise than ideal. Its characteristic shared with the CX-5 and Mazda6, and really the only thing I would change. As with its showroom mates, the Mazda3 is, hands-down, the most interesting and engaging car in its class, and buying one an act of altruism for sports car fans.
They do need to replace that Miata next year, after all.
----------
2014 Mazda3 S 5-door Grand Touring
As Tested: $29,185
Type: 5-door, 5-passenger hatchback
Engine: 2.5-liter four-cylinder
Power: 184 hp, 185 lb-ft torque
Transmission: 6-speed automatic
MPG: 28/38
Gary Gastelu is FoxNews.com's Automotive Editor.