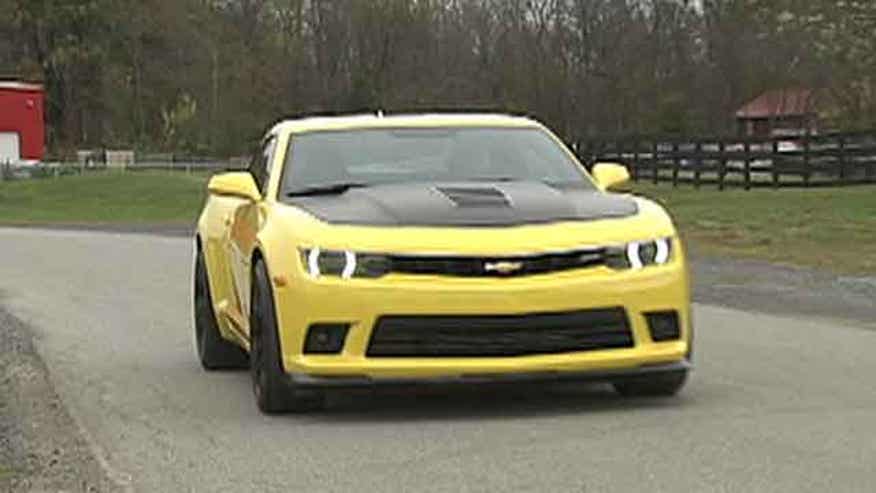 The Chevrolet Camaro SS has been given a visual update for 2014 with an angrier, squinty-eye face, one-piece taillights and speed holes in the hood.
Speed holes!
And they actually work by evacuating air from the engine compartment and sending it over the roof to improve cooling and aerodynamics, something Chevy picked up on the racing circuit.
Aside from that, it's basically the same car as last year's when the Camaro got a minor interior refresh that included the addition of Chevy's touchscreen-based MyLink infotainment system, a strip of trim on the dash and new graphics on the instrument cluster.
This simply means that the $34,050 coupe is still a head-turner, is still difficult to see out of, still has a heavy, springy clutch and still goes like stink in a straight line -- it's 426 hp 6.2-liter V8 just as potent as before (400 hp on automatic equipped cars.)
Throw a couple of turns into the mix, however, and it still feels big and clumsy, too. Like a running back wearing dress shoes. This is understandable as many Camaro SS buyers are looking for a cruiser, so even though it's plenty tight, it errs toward comfort. But there's a remedy for that.
Check the options box for the $3,500 1LE performance package and the Camaro SS goes through a dynamic transformation that would make Bumblebee proud. With it, you get stiffer stabilizer bars front and rear, a strut tower brace, the 20-inch wheel and Goodyear Eagle Supercar G:2 tire package from the Camaro ZL1 along with the wheel bearings, toe links and rear shock mounts from that car to go with them.
The 1LE also has a close ratio six-speed manual transmission, shorter 3.91 final drive ratio, high capacity fuel pump, and front and rear spoilers to increase downforce. A suede shift knob, flat-bottom steering wheel, and matte-black hood wrap are thrown in for good measure.
The end result is a Camaro SS that doesn't want to convert every curve it encounters into a drag strip when you step on the gas, pushing its way toward the guardrail and beyond. The 1LE loves to turn, and turns well it does.
There is no play in the steering. The nose moves with a flick of the wrist, and just keeps on moving until you tell it to stop. Want to move it faster? Step on the gas to bring the tail around with it. So much control, so little slop, so zero understeer.
Although it's primarily aimed at the track, the 1LE also does the country lane thing well. Its added composure makes the bulky coupe feel more like a tight little sports car than a monster truck on narrow twisty roads.
This is even truer if you opt for the $1,995 Recaro seats available on all Camaro SSs, and opt you should. The $895 performance exhaust is another no-brainer, but won't make you any friends in your quaint and quiet suburban neighborhood. Unless the people there enjoy awesome, of course.
If you are interested in a Camaro, please, please don't stop at the SS. Put all of those years of watching Sesame Street to good use and add the 1LE. You will thank me.
And, listen, don't feel bad if you just picked up a Camaro and forgot to order the 1LE package. Chevy is now selling all of the handling parts that go with it separately so you can modify your car thusly, even if it's a V6.
Personally I'd want to pick up a used Hot Wheels edition Camaro SS, add the 1LE stuff and go looking for a giant orange loop, but a nice fresh stretch of blacktop would do just fine.
As long as I can't see the end a quarter-mile away.
----------
2014 Chevrolet Camaro SS 1LE
Base Price: $34,050
As Tested: $46,680
Type: 2-door, 4-passenger coupe
Engine: 6.2-liter V8
Power: 426 hp, 420 lb-ft torque
Transmission: 6-speed manual
MPG: 16 city, 24 hwy
Gary Gastelu is FoxNews.com's Automotive Editor.