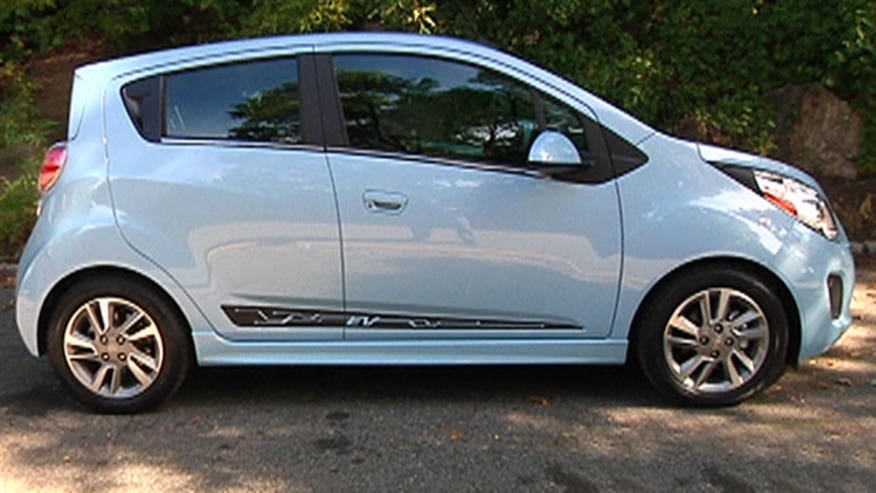 American muscle has been fun sized. But is it still any fun?
The 2014 Chevrolet Spark EV may be the first 21st Century hot rod, even if it wasn't meant to be.
General Motors primarily built it to get its toes back into the all-electric car pool it famously abandoned when it killed the EV-1 program a decade ago, and to meet California's zero-emissions mandate that requires automakers to sell a certain number of battery or hydrogen fuel cell-powered cars there each year, which is really the primary reason that it built it.
It's also on sale in Oregon, which simply likes electric cars and has one of the better-developed public charging infrastructures in the country. In either state, the Spark EV is priced at $27,495, but California residents that qualify for all of the local and federal tax credits available to electric car buyers can knock that down to $17,495 without even having to haggle with the salesman. Chevy also offers a three-year $199 per month lease with a $999 down payment.
According to the EPA, the Spark EV can go 82 miles per charge, about average for its class, while delivering the equivalent of 119 mpg, which beats the second-best Honda Fit EV by 1 mpg.
It drinks its juice from a 21 kilowatt-hour battery pack that's nicely packaged below the rear seats and cargo compartment. As with the gasoline-powered version of the Spark, there's much more room for four adults in the cabin than its tiny exterior would suggest, and none of it is lost in the conversion. The trimmings inside are low grade, but the design is stylish and a configurable digital instrument cluster borrowed from the Chevy Volt gives it a little bit of a high tech air. An extra $325 gets you pleather-upholstered seats and steering wheel.
The Spark EV also comes standard with Chevy's MyLink touch-screen based infotainment system, which is too cool to have a CD player but is equipped with satellite radio and can connect via your smartphone to apps for Pandora, Stitcher and BrinGo navigation.
IPhone aficionados will note that the Spark EV was the first car to integrate Siri. Just press the talk button on the steering wheel and start yapping. It won't display any information on the MyLink screen, but will respond verbally when possible. I was able to get the address of the closest pizza joint, distance to Rio, temperature in Barcelona and was informed that just because woodchucks can chuck wood doesn't mean that they would.
Now, about that hot rod thing.
Electric motors are powerful, even small ones. Just ask your local forklift operator. They're so potent, in fact, that many small electric cars are programmed to restrict their output so as not to encourage the profligate waste of the precious energy stored in their batteries, which remain the weak link in the electric propulsion chain. Apparently, Chevy's engineers don't adhere to that philosophy, because they let this one off the hook.
Along with 140 hp -- 56 hp more than the four-cylinder in the Spark produces -- the Spark EV sends up to 400 lb-ft of ground-pounding torque to the front wheels. That's just 10 lb-ft shy of the V8 in an automatic transmission-equipped Chevy Camaro SS, more than any electric car aside from the $70,000 Tesla Model S, and is utterly ridiculous in the best of ways.
Stomp on the accelerator and the efficiency-minded, low-rolling resistance tires don't stand a chance. I giddily chirped them all the way up to 40 mph, but was still quick to get there. The 0-60 mph sprint takes less than 8 seconds -- very respectable for an economy car -- and the immediate power delivery launches the Spark EV forward at any speed. Well, at least up to its electronically-limited maximum velocity of 90 mph. That may be unfit for the Autobahn, but it is 5 mph more than the highest speed limit in the U.S. – currently 85 mph in Texas.
Unfortunately, like early muscle cars, the fun is also restricted -- to straight lines. While the similarly-sized Fiat 500e takes full advantage of the low center of gravity provided by its heavy battery pack to deliver impressive handling, the Spark EV gives up early in the turns thanks to mushy shocks and those slippery tires.
Perhaps it's for the best. With a seven-hour charge time on a 240-volt outlet, you're better off conserving energy for the longest hauls possible; a task made easier by shifting the transmission selector to "L" to engage a regeneration setting that uses the electric motor to slow the car down and recapture that otherwise lost energy. It's so aggressive that you hardly have to use the actual brakes. Soon, however, you may not have to worry so much about this sort of thing.
Starting in December, a $900 option will be available that makes the Spark EV compatible with the new 480-volt SAE-Combo fast charging standard several automakers have agreed to adopt, allowing it to get an 80 percent charge in just 30 minutes. The first public station featuring this technology opened in San Diego on September 30th, but more are on the way.
I'm not sure when one will be installed at a drag strip, but when it does I'd love to throw a set of DOT slicks on the Spark EV and take it for a couple of very short trips to see what it can really do. Until then, it should make for an able, affordable commuting option for those who don't often stray too far from their communities.
----------
2014 Chevrolet Spark EV
Base Price: $27,495
As Tested: $27,820
Type: 4-passenger, 5-door hatchback
Motor: permanent magnetic coaxial electric
Power: 140 hp, 400 lb-ft torque
Transmission: 1-speed automatic
MPGe: 128 city/109 hwy
Gary Gastelu is FoxNews.com's Automotive Editor.