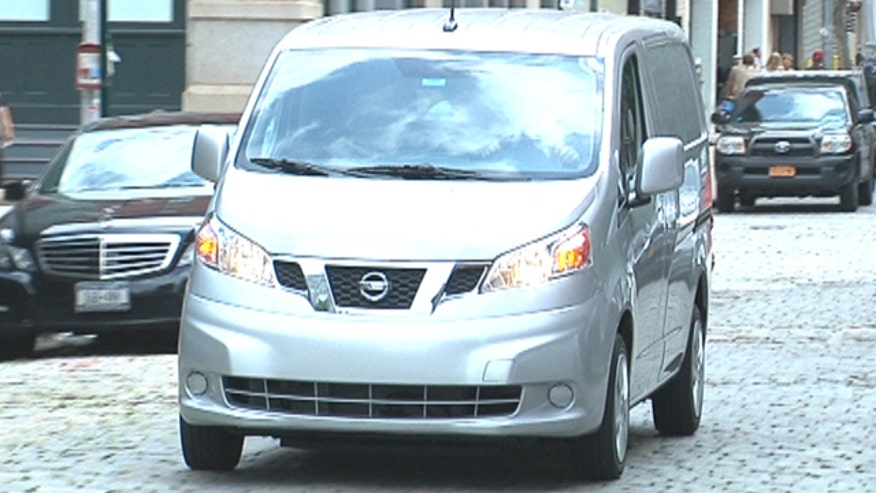 Nissan's Taxi of Tomorrow is undergoing its final road tests and will be delivering people around New York City soon, but you can deliver their stuff right now in the vehicle it's based on, the NV200.
Designed to compete with the likes of the Ford Transit Connect, the compact, two-passenger NV200 aims to offer a nimble yet capacious, affordable and fuel efficient alternative to traditional full-size vans like Nissan's own NV.
Lower, but a bit longer than the Transit Connect, the NV200 nevertheless follows the same design playbook with its chrome-tipped Dustbuster-shaped body, a four-cylinder engine and front-wheel drive. But with a starting price of $20,850 it costs $2,570 less to get into than the Ford, even if that means doing without things like cruise control and rear windows. Both of those are optional, along with a Bluetooth phone connection and a backup camera-equipped infotainment system.
Along with the price, the big numbers for this van and the purchasing managers that will evaluate it are a 122.7 cubic foot cargo capacity and 24 mpg combined fuel economy rating, a little bit less and a little bit more than the Transit Connect delivers. It can also fit a standard size shipping pallet and is available with D-rings to secure it and other things to the floor. Dual sliding doors are standard, and the rears are split 60/40, with the larger one on the sidewalk side. Both have stops that hold them open at either 90 or 180 degrees.
The front passenger seatback folds forward to help fit longer items onboard, or serve as a not perfectly flat desk, while the center console has a vertical slot wide enough to hold a laptop. Incongruously, the glove compartment is so tiny I could barely fit my wallet in there with the owner's manual, and I only had like $5 in there at the time, as usual.
Despite its commercial aspirations, the NV200 has the sort of reasonably comfortable, composed ride you get in a compact car like a Nissan Versa. That's no surprise, as the two share a few underpinnings and a level of refinement that's a bit less industrial than the Transit Connect's.
But while it hauls quite a bit of cargo, the NV200 definitely doesn't haul your hind quarters. Its 2.0-liter four-cylinder has just 131 horsepower and is connected to one of Nissan's signature CVT automatic transmissions. This is an efficient combination, and fine for around town work, but don't expect to spend a lot of time in the left lane, unless you pull out to pass, in which case you'll be there for quite some time trying to get around the vehicle in front of you.
For Nissan, that vehicle is the Transit Connect, which established the compact cargo van segment in the United States back in 2010 and has carved a niche that should be good 40,000 sales in 2013. Whether or not the NV200 can add to that, or at least subtract from Ford's total to become the Compact Cargo Van of Tomorrow is yet to be seen, but for budget minded businesses it's definitely worth considering for more than a ride to the airport.
----------
2013 Nissan NV200
Base Price: $20,850
Type: 2-passenger minivan
Engine: 2.0L four-cylinder
Power: 131 hp, 139 lb-ft torque
Transmission: CVT automatic
MPG: 24 city/25 hwy
Gary Gastelu is FoxNews.com's Automotive Editor.