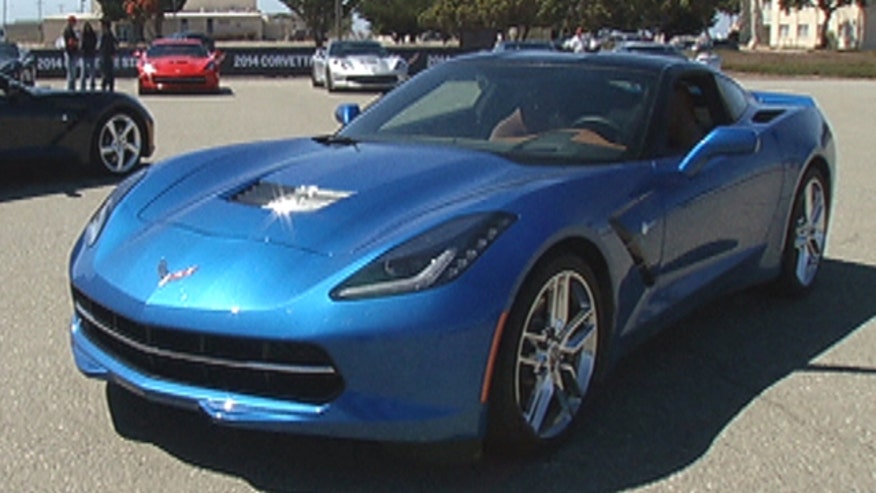 The 2014 Corvette Stingray is fantastic at cutting corners, but the team that built it clearly didn't.
After years of dishing out tremendously fast, but disappointingly low-rent rides, Chevrolet has cooked up a sure-fire classic in the all-new seventh-generation car.
The Bowtie brand's super coupe has rarely left anything on the table when it comes to performance, but now it has the refinement to go along with it. No more walk-through panel gaps or rental car interior appointments; just a well-sorted vehicle fully up to the snuff of its $51,995 price tag, a mere two grand more than the outgoing 'Vette.
Follow us on Twitter @foxcarreport
It sports a familiar shape, but enhanced in every way, with skin drawn so tightly that its bones appear to be showing through. Creases, character lines and a Coke-bottle waist form an aggressive piece that in plan view looks like an ornamented Roman gladius ready for battle.
Unlike those short swords, very little steel was used in the Corvette's construction. Its stiff, lightweight aluminum frame is wrapped in composite body work and topped with a carbon fiber removable roof and clamshell hood.
Under the latter is a 6.2-liter V8 that's as new as the rest of the car. Yes, it has the same displacement as the last Corvette's engine, and pushrods to go with it, but with direct fuel injection and variable valve timing puts out 455 hp and 460 lb-ft of torque. Both figures are the highest of any entry level Corvette in history and rise by five of their respective units when the car is ordered with a performance exhaust system, which should be always.
It's not always putting out that much power, of course, and cylinder deactivation allows it to operate as a V4 at speeds up to 100 mph when you're taking it easy on the throttle, you easy-going midlife crisis guy. The payoff for doing so is an EPA highway rating of 29 mpg on Corvettes fitted with the standard manual transmission.
That's a seven-speed manual transmission, mind you, with an overdrive so tall it could play center for the Pistons. Corvette chief engineer Tadge Juechter swears he's seen 38 mpg on a highway run, and since he built the car and resembles a Dirty Harry-era Clint Eastwood, I'm not about to doubt him in a public forum. His people know where to find me.
A six-speed automatic is also available, and goes well with the Corvette's snazzy new interior digs if a luxury GT is what you're in the market for. The cabin is finished in quality materials the last gen car could only dream of as it stormed passed Porsches and BMWs on racing circuits across the country – victories that often proved dubious on the long, uncomfortable rides home.
Not so this time around, the new bucket seats offer a nice mix of lateral support and posterior comfort that addresses the top gripe about the old car, and it's exceptionally quiet in there, too. That is unless you get frisky with the throttle and that exhaust starts bellowing and barking into the large reverberation chamber under the hatch. Don't worry, you won't mind it at all.
The view forward is equally appealing, with a dashboard that arcs around the driver from the far side of the center console up and over the instrument cluster and onto the door. You can wrap it in full leather for $8005, but the phony stuff is convincing enough. A configurable display mounted front and center between the analog speedometer and auxiliary gauges is exactly what the digital speedo in the '84 Corvette wished it could be, and you'll need it to keep abreast of all of the Stingray's high-tech performance enhancing features.
A knob behind the shifter toggles through Wet (W), Eco (E), Touring (T), Sport (S) and Track (Tr) modes, and I can't help but think that the lowercase "r" represents a little CYA for whomever didn't realize they were using two words that start with "T." (What, was "Comfort" deemed not appropriate for a sports car?) Nevertheless, the adjustments made to up to a dozen parameters -- steering, throttle, etc. -- are apparent and effective.
To approach the high end of that number you'll need to order the $2,800 Z51 performance package, which comes with more aggressive bodywork, improved cooling, a stiffer suspension (still, larger brakes, dry sump oiling, and a first for Corvette electronic limited slip differential (eLSD) that actively shuffles power between the rear wheels as needed. Add Chevy's outstanding magnetic ride control (MRC) active suspension for $1,795 and you also get a performance traction management system (PTM) and a Stingray that rings up at $56,950. This is definitely the one that you want.
Without all of the trimmings, the Corvette is a capable and pleasant enough ride, but not one you'd ever feel inclined take to a track that doesn't allow betting. The base suspension gets a middle of the road tune optimized for cruising, not carving, and offers nowhere near the body control of the MRC, which battens things down like Cap'n Crunch heading toward a media storm, but retains enough compliance to handle the most neglected roads.
I hit more than a few of those on my very long but not long enough test drive in the hills east of Monterey, California, and the Stingray slithered along them as smoothly as a fish in water. I doubt there's much the real world can throw at it that will trip this car up. The limits of its grip -- which Chevy pegs at 1.03 g -- are out of reach on public roads to anyone with a modicum of decorum. On an autocross, turn-in proved to be gladius sharp, but it's still plenty of work to cut the tail loose.
If you get close, the adjustable PTM keeps things in check to the tune of the big V8 bellowing the most wonderfully violent noises out the quad exhaust pipes in protest of its ignition being dialed back. Shut it off completely, and the Stingray is less eager to snap into a spin than past Corvettes, the eLSD visibly at work as the inside tire smokes its way through powerslides. This isn't to suggest that Chevy has honed its Howitzer into a scalpel. It still feels like an angry pit bull on a leash, just tighter one this time around.
I'm not entirely convinced the Stingray is the car to get droves of people to give up their expensive foreign machinery and head into Chevy showrooms, but it definitely removes any excuses you had for going the other way.
----------
2014 Chevrolet Corvette Stingray
Base Price: $51,995
Type: 2-door, 2-passenger coupe
Engine: 6.2L V8
Power: 455 hp, 460 lb-ft torque
Transmission: 7-speed manual, 6-speed automatic
MPG: 17 city/29 hwy
Gary Gastelu is FoxNews.com's Automotive Editor.