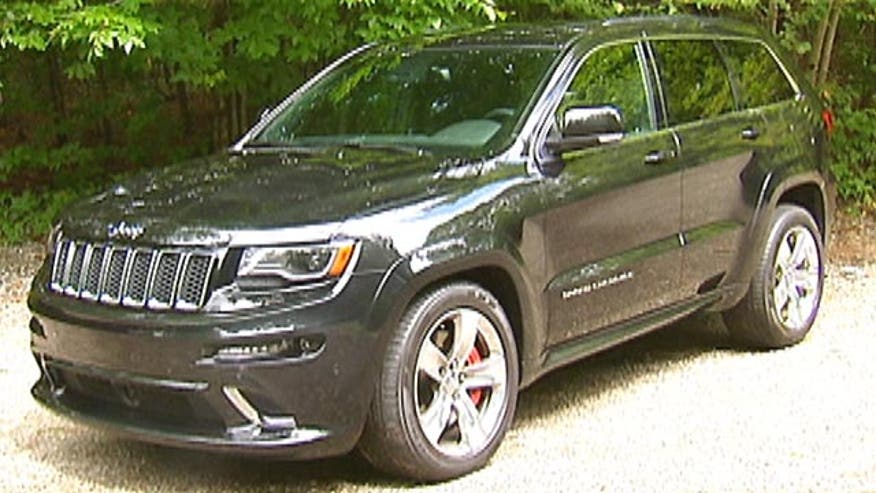 The very successful Jeep Grand Cherokee has been updated for 2014 with a refreshed face featuring LEDs and projector beam headlights, new interior tech and trim, and the return of a diesel engine option, now good for 30 mpg on the highway.
Then there's the one that can go 160 mph on the highway…assuming you drive it to Germany, of course.
The Grand Cherokee SRT is a Hemi-powered, high performance version of Jeep's top-selling model modified by Chrysler's Street and Racing Technology division with menacing bodywork, low-profile tires, a sport-tuned suspension and not a trail rating in sight.
FoxNews.com Autos is on Twitter. Follow us @foxcarreport
The enormous nostril-like air vents on the hood are an indication of fire-breather underneath it, a 470 horsepower 6.4-liter V8 tamed by a new for Grand Cherokee eight-speed automatic transmission that can accelerate the two-and-a-half-ton beast to sixty miles per hour in less than five seconds, crack off quarter-mile runs in the 13s and lug a trailer that weighs up to 7200 pounds, though probably not all of the above at the same time.
In place of the air-suspended 4x4 system available on the more off-road focused Grand Cherokee models, the SRT gets adaptive dampers and an all-wheel-drive setup with settings for Sport and Track rather than Sand and Rock.
In both of those modes it sends the bulk of its power to the rear wheels for a more sports car-like feel, sharpens the throttle and steering, and chooses more aggressive mapping for the transmission, which can also be manually shifted by paddles behind the steering wheel. "Track" turns off the traction and stability control for those looking to illicit some serious mayhem.
An adjustable launch control feature lets you hold the engine anywhere between 2,000 and 3,200 RPM with your foot on the brake, then perfectly manages the power when you release it. According to the on-board performance computer (which tracks acceleration, g-forces and braking distance) it got the big girl to 60 mph in 4.7 seconds for me, and that wasn't even on a straight road.
When the curves turn to twists, she holds on pretty well, too. Sure, there's more than enough body roll that you'll never forget you're a couple of heads higher than the gal in the Dodge Challenger SRT8 that just passed by, but the grip from the optional three-season tires (all-season rubber comes standard) is substantial, and that drivetrain setup really lets you put the power down coming out of the corners.
The seats help out here, too. They're deep racing-style buckets with luscious, grippy cloth inserts that pair nicely with the chunky sport steering wheel. Common with other 2014 Grand Cherokees, the SRT has a new instrument cluster with a configurable flat-panel display and an updated UConnect infotainment system -- here with standard navigation -- that'll read incoming text messages aloud, provide a WiFi hotspot for a fee and is generally better to operate than many competing touch screen systems.
Not much else changes, which is fine. After four years on the market, the Grand Cherokee still looks great inside and out and feels as if you could drive it through the base of the Hoover Dam. Granted, it weighs about 600 pounds more than a Ford Explorer or Toyota 4Runner, but the extra metal is put to very good use.
Better still, in spite of all of the performance upgrades, the Grand Cherokee SRT has an unexpectedly comfortable ride that can take a good beating from beat-up roads. A little head toss on lateral bumps is the only nod to its absurd abilities.
As for fuel economy, do you remember the Greek economy? Yea, it's just as disastrous as that. While SRT proudly points to a cylinder deactivation system that allows the engine to often run on just four cylinders and deliver an EPA rating of 15 mpg combined, I was looking at 12 mpg pretty much the whole time I had it -- most of which was spent just cruising along with all those regular Grand Cherokees that were probably getting twice that and cost half as much to buy.
The Grand Cherokee SRT has an appropriately hefty base price of $63,990 that can be optioned up to well over seventy grand with things like a Harmon Kardon audio system, panoramic sunroof and rear seat entertainment system, so it ain't the cheapest Jeep.
In fact, it is by far the most expensive. But compared to European hot rod SUVs like the Mercedes-Benz ML63 AMG, BMW X5M and Land Rover Range Rover Sport, which can easily go for $100,000 or more, it's quite reasonable for the person that thinks a hot rod SUV is a reasonable thing.
----------
2014 Grand Cherokee SRT
Base Price: $63,990
As Tested: $69,665
Type: 5-passenger, 5-door all-wheel-drive SUV
Engine: 6.4L V8
POWER: 470 hp, 465 lb-ft torque
Transmission: 8-speed automatic
MPG: 13 city/19 hwy
Gary Gastelu is FoxNews.com's Automotive Editor.