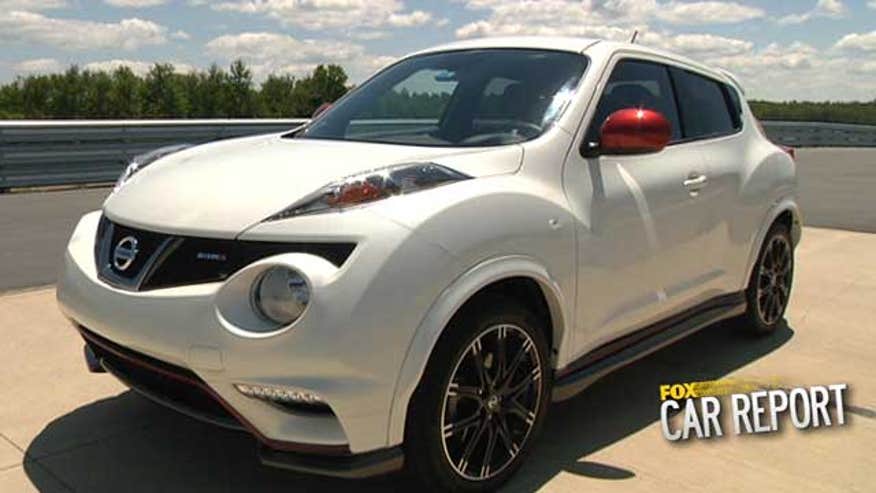 For those who don't think the alien bullfrog known as the Nissan Juke is enough of a head-turner already, they've cranked it up to 11, or at least eight or nine.
The 2013 Juke NISMO introduces a new trim level for the oddball compact crossover that's been styled and sped up by Nissan's motorsport division, which also builds racing cars that compete at Le Mans. This will not be doing that.
Nevertheless, its functional aerodynamic body kit featuring an updated front fascia with LEDs, rocker panel extensions and a rear diffuser increases downforce by up to 37 percent, according to Nissan, and attention getting 50 percent, according to me.
Dark, 10-spoke aluminum wheels with low-profile summer tires, a large roof edge spoiler, and red pinstriping and mirror caps complete the straight-from-the-tuner-shop look.
The Juke is already a love it or hate it proposition, and the visual updates will likely push you further into whatever category you currently fall into, but not get you to switch sides. I'm a fan, and met more than a few more while driving the car. To them, the street cred this thing has is off the charts.
That may be because its beauty, or beastliness, is more than skin deep. At least a little bit more.
The suspension has been lowered and stiffened, the steering feel firmed up and power from the 1.6-liter turbocharged engine increased from 188 hp to 197 hp, making it the most potent four-cylinder in Nissan's lineup, by far, including the one used in the relatively gargantuan Altima.
Very comfy, heavily-bolstered racing-style seats that are way above the Juke's pay grade and an Alcantara-wrapped wheel drive the high(er) performance point home. A front-wheel-drive model is available with a six-speed manual for $23,780, while the all-wheel-drive version tested here comes with a CVT automatic for $26,080. That's pretty much the only choice you have to make, other than white, black or silver paint and whether or not to go for the $1,170 premium/audio navigation system.
The AWD system is particularly impressive. As with the standard-issue Jukes, it's equipped with a very effective torque-vectoring system that shifts power front to back and side to side as necessary to help get you quickly, and stably through turns.
Put your foot to the floor in a sharp curve and you can really feel it going to work. The Juke handles much better than a tallish take on an economy car should, and the NISMO mods ratchet everything up a few degrees.
Rare among crossover AWD systems, you can lock this one into 4x4 if conditions are poor, or front-wheel-drive for improved fuel economy. Its EPA rating is 25 city/30 hwy, but selectable Eco and Sport modes that adjust the engine, throttle and transmission one way or the other will alter that in the real world.
Unfortunately, CVTs always err towards efficiency and this one's indirect power delivery is not well suited to the Juke's furious image, even when you switch it to "manual" which allows you to pretend it's a six-speed.
I haven't had a chance to check out a car fitted with the true stick, but since you have to give up the all-wheel-drive and independent rear suspension to get it, I suspect there was someone named Hobson working on the Juke product planning team.
Still, this is an enjoyably fleet car that's almost as entertaining to drive as it is to look at, as long as all-out speed isn't what you're after. Bottom line: If you're the type of person that's already attracted to the Juke's flair, you might as well go all-in with the NISMO.
Just use the front doors when you do, the ones in the rear are kind of small.
----------
2013 Nissan Juke NISMO AWD
Base Price: $26,080
As Tested: $27,495
Type: 5-door, 5-passenger all-wheel-drive crossover
Engine: 1.6-liter turbocharged 4-cylinder
Power: 197 hp, 184 lb-ft torque
Transmission: CVT automatic
MPG: 25 city/30 hwy