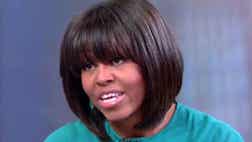 Tuesday ABC's "Good Morning America" edited out an inaccurate assertion by First Lady Michelle Obama that the gunman in the Chicago killing of teenager Hadiya Pendelton used an...
Apparently, ABC can't tell the difference between opponents of gay marriage and hateful, anti-American bigots.
Former top Newsweek journalist and current MSNBC.com editor Richard Wolffe smeared Senator John McCain as a racist Monday during a television appearance.