Veterans
I am an advocate for war dogs, their handlers and the incredible humane bond that exists between the two.
Heroism
I've been committed this year to raising awareness for working dogs. These unsung heroes perform lifesaving services in our hometowns every day – as guide and hearing dogs, law...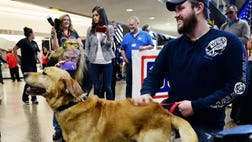 Heroism
Today, military dogs are more important than ever in keeping our service men and women safe. With noses that are 100,000 times more sensitive than humans' giving them an...