Opinion
The Supreme Court could best serve America by intentionally delaying any substantive decision on the health care law known as ObamaCare until after the presidential election.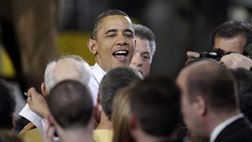 Opinion
If Democrats run in 2012 on a credible "compassionate capitalism" platform, forget those claiming President Obama will be very lucky to win. Rather, it will take bad luck for...
Opinion
The politics of the presidency has revolved around just eleven families since the 1888 presidential election. There's no doubt that as Americans we love the "log cabin" myth of...