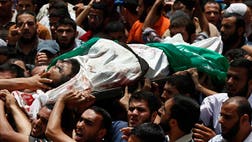 Opinion
In his recent article, Dov Lipman invoked American values and warned us of "hypocrisy" if we don't support "Israel's right to defend itself." But he forgot our core value:...
Islam
This year, Ramadan starts on June 29. Over 1.5 billion Muslims, despite their sectarian differences, will be united to reinvigorate their faith. I urge you, during this...
Persecutions
Bravo my friend. You have become a spiritual celebrity. In a world littered with suicide bombers and extremist thugs, sullying the name of Islam and the title of a martyr, you...